Sidebar
SPECIAL - Spartan™ Omega™ AR500 Body Armor and Spartan High Mobility Cut Plate Carrier Entry Level Package
Brand

SKU:

SA-AR500PKG-SW-NSP-WG
When purchasing this package you will receive:

(1) "Spartan" Swimmers Cut Plate Carrier in BLACK, TAN, OD GREEN, or WOLF GRAY

(2) Spartan™ Omega™ AR500 Body Armor 10"x12" Swimmers Cut Body Armor Chest/Back Plates, Single Curve, Base Coat
Optional:Add Trauma Pads for blunt force trauma mitigation and increased comfort.
Optional: Add Spall Containment Sleeve for additional spall/fragmentation mitigation.
SPARTAN ARMOR SYSTEMS

®

"SPARTAN" SWIMMERS CUT PLATE CARRIER
Product Overview
The Spartan Armor Systems® "Spartan" Swimmers Cut Plate Carrier is designed for use with our Swimmers Cut steel core armor: Spartan™ Omega™ AR500 and AR550. This minimalist "Spartan" carrier is designed for those seeking speed, agility, and ultimate maneuverability in their carrier. The Swimmers Cut Plate Carrier is adjustable from a Medium size to XL and can accommodate 6"x6" side plates in the cummerbund, should you desire to run it with enhanced side protection. Intended for highly active environments that require the wearer to remain nimble, this carrier is constructed of extremely durable 860 Denier poly construction, fits 10"x12" swimmers cut plates which provide coverage where you need it most, but reduces weight and allows for enhanced mobility by eliminating a small amount of plating from the shoulder regions. Don't let the paired down design fool you though, this versatile and effective carrier affords a good degree of customization with PALS webbing on the front and back sides for the attachment of molle accessories and pouches, and velcro on front and back for patch placement and identifiers. If you're looking for a versatile plate carrier that allows for a greater range of motion and mobility that won't break the bank, the Spartan Swimmers Cut Plate Carrier is for you.
CrossFit Weighted Training Vest
The Sentinel High Mobility Plate Carrier by Spartan Armor Systems® is the weighted vest you have been looking for. Perfect for men and women, utilize our Swimmers Cut Weighted Plates to create a weighted fitness vest that's 18lbs, or even heavier when adding weighted plates to the side compartment of the fitness vest plate carrier.
Spartan Armor Systems® "Spartan" Swimmers Cut Plate Carrier Specs:
Lightweight Plate Carrier That Accepts Side Plates
Designed For Spartan Armor Systems® 10" X 12" Swimmers Cut Steel Core Plates
Adjustable From Medium To XL
PALS Webbing On Front And Back For Versatility
Velcro On Front And Back For Patch Placement
Cummerbund Is Designed To Hold 6" X 6" Side Plates Comfortably
Shoulder Pads Included
860 Denier Poly Construction
Reinforced Drag Handle

NOTE: This carrier is designed to fit swimmers cut plates manufactured by Spartan Armor Systems®. We can not guarantee a fit with plates made by other manufacturers.
SPARTAN™ OMEGA™ AR500 BODY ARMOR SWIMMERS CUT SET OF TWO
Product Overview
Sleek, lightweight, and ready to move, the Swimmers Cut Spartan™ Omega™ AR500 Body Armor affords operators with increased mobility, a decrease in overall weight. The "Swimmers Cut" gets its name from the improved range of motion in the shoulders due to the angle of cut in the top corners of the plate. This allows for a lighter and less obstructive body armor plate while still providing coverage for vital organs. Swimmers Cut Spartan™ Omega™ AR500 Body Armor is constructed from lab certified AR500 ballistic grade steel, (¼" thickness) and these body armor plates provide the operator with Level III protection in accordance with NIJ0101.06 standards. For added peace of mind, every plate of armor sold by Spartan Armor Systems® is serialized allowing it to be easily tracked back to the original plate of steel it was cut from should there be any question as to its ballistic properties. When the environment dictates speed and mobility as primary and critical factors, the Spartan omega AR500 Body Armor Swimmers Cut Plates are an excellent choice.
Laser Cut to Protect Ballistic Integrity
All steel core body armor is cut and shaped after the ballistic properties have been formulated within the steel. While other steel body armor manufacturers commonly use plasma torch cutting that applies excessive heat (25,000 ˚C / 45,000 ˚F) to a wide portion of the steel plate, Spartan Armor Systems® only utilizes laser cutting in order to protect the ballistic integrity of each steel core body armor plate we manufacture. Plasma cutting also requires grinding to clean up the edges after the fact, resulting in increased heat and possible fatigue.At Spartan Armor Systems®, we maintain the highest production integrity and quality standards every step of the way for our customers because we know what is at stake.
IMPORTANT NOTE: The base coat option only provides protection against corrosion and offers little to no fragmentation/spall mitigation.
Exceptional Comfort & Engineering
You have the choice of getting our AR500 Body Armor formed on a continual radius die (single curve) or with our proprietary and patented Advanced Triple Curve™ (ATC) formation. It is important to note that our single curve plate is the equivalent of what our competitors deem "multi-curve" and our ATC design is a true multi-curve plate with unique curvature at the top, bottom, and sides of the plate. At Spartan Armor Systems® we have machined custom tooling to craft our plates with a sleek curvature that conforms and wraps to your torso for enhanced ergonomics. Spartan Armor Systems®™ is proud to be the FIRST in the industry to commercially offer the triple-curved AR550 Body Armor. Spartan Armor Systems®' ATC body armor allows the operator to shoulder their weapon with the most freedom and limited discomfort. The ATC design provides a snug, comfortable fit and "hugs" the operator's body, resulting in a significant increase in comfort and operational maneuverability. Our custom-configured CNC equipment and advanced understanding of what makes Steel Core Armor most effective has allowed us to create dies that form our body armor without any "crease" bends. Crease-bends, "work hardens" the plate, which causes a significant amount of stress to the portion of the plate being placed under load during the manufacturing process. We HIGHLY suggest when doing your research, that you ask any manufacturer under consideration if they crease bend their body armor. This process results in increased potential for plate fatigue and failure, which is why Spartan Armor Systems®™ has gone the extra mile to create this unique die process.


Chest Plate Weight (per plate):
10x12 Plate: Base Coat 7lbs 7oz.
Spartan™ Omega™ AR500 Body Armor Specs:
Made in U.S.A.
Meets NIJ 0101.06 Level III Specifications
Full Coat Option Provides Fragmentation/Spall Mitigation, Base Coat Provides Corrosion Protection Only
See A Comparison of Our Full Line of Body Armor: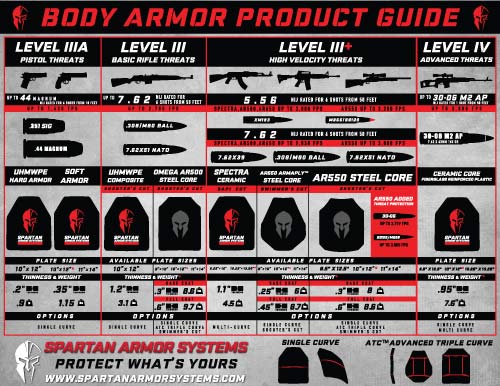 Export Administration Regulations (EAR) and International Traffic in Arms Regulations (ITAR) - US Export Regulations:
Level III and IV rifle rated body armor (Rifle Plates) fall under jurisdiction of the Export Administration Regulations (EAR) and International Traffic in Arms Regulations (ITAR), and are subject to the export control laws of the US Government. Export or re-transfer of Rifle Plates by any means to any foreign end user or for any other end use, whether in the US or abroad without written approval of the US Department of Commerce or Department of State is prohibited.
The sale, transfer, transportation, or shipment outside of the US of any product prohibited or restricted for export without complying with US export control laws and regulations, including proper export licensing, documentation or authorization, is strictly prohibited and may result in civil penalties and/or constitute a federal crime. Spartan Armor Systems, TK Armor Systems, LLC will not engage in any transaction that requires the illegal export of any products and will not assist directly or indirectly with the illegal export or re-export of any products.
*******All products available on this category are sold under and branded under Spartan Armor Systems ™ The Target Man's /Spartan Armor Systems Spartan™ Omega™ AR500 Body Armor Armor products are manufactured from genuine, lab-certified AR500 ballistic grade steel. None of the products available on this website are sourced from, sponsored or approved by, affiliated with or in any way connected with Armored Republic, LLC.
The "Spartan" Swimmers Cut Plate Carrier is adjustable from Medium to XL When purchasing this package you will receive: (1) "Spartan" Swimmers Cut Plate Carrier in BLACK, TAN, OD GREEN, or WOLF GRAY (2) Spartan™ Omega™ AR500 Body Armor 10"x12" Swimmers Cut Body Armor Chest/Back Plates, Single Curve, Base Coat

Spartan Armor Systems Laser-Cut Steel Core Body Armor

A quick glimpse at how Spartan Armor Systems steel core body a...

Spartan Armor Systems | Speed Kills

** This video is intended for educational & entertainment purp...

What Are Swimmers Cut Body Armor Plates? Who Are They For?

Spartan Armor Systems® Swimmers cut plates weight about 1lb le...

Body Armor Overview and NIJ Protection Levels - Spartan Armor Systems®

Spartan Armor Systems® manufacturers quality American made lev...