Sidebar
Spartan AR550 Body Armor and Sentinel Plate Carrier Package
This Package Includes:
- 10"x12" AR550 Steel Plate x2
- 6"x6" AR550 Steel Side Plate x2
- Shooters Cut Sentinel Plate Carrier x1
- Other Add-Ons Available
Brand

SKU:

SAS-PKG550-STNL-BK-KIT
SPARTAN ARMOR SYSTEMS® SENTINEL PLATE CARRIER
Product Overview
The Spartan Armor Systems® Sentinel Plate Carrier is an extremely rugged, lightweight, feature-packed plate carrier that affords users a high degree of comfort and customization. Whether you are shopping for your first plate carrier or your next plate carrier, the Sentinel carrier platform allows the operator significant freedom to build and customize to fit their needs.
Ready For Anything
Fitting 38" to 48" chest sizes, the Sentinel Plate Carrier is fabricated from 1000 denier fabric and fits 10"x12" shooters cut plates. Featuring anti-slip shoulder padding with velcro, side release buckles, and a highly breathable padded mesh throughout the interior for comfort the Sentinel Plate Carrier affords all-day comfort and wearability. The removable cummerbund features removable side plate pockets for both 6"x6" and 6"x8" plate armor inserts for added protection. The Spartan Armor Systems Sentinel Plate Carrier has been one of our most popular carriers with thousands having been sold to Law Enforcement Officers and Civilians alike.
Spartan Armor Systems® Sentinel Plate Carrier Specs:
Adjustable from 38" To 48" Chest Size
Durable Emergency Drag Handle
Anti-slip Shoulder Padding With Velcro
Side Release Buckles On The Internal Waist Strap
Padded Mesh Separators For The Interior Of The Carrier For Breathability
Fits 10" X 12" Shooters Cut Plates
Removable Cummerbund With Side Plate Pockets For 6" X 6" And 6" X 8" Side Plate Armor
Velcro In Front Of The Carrier Is 8" X 4" With A Velcro Loop On Each Side
Velcro On The Back Of The Carrier Measures 9" X 3"
Stronger Carrier Material That Can Withstand Extensive Wear And Tear Over A Long Period Of Time
1000 Denier
Bottom Loading
Weighs Approximately 2lbs. 9oz.


NOTE: This plate carrier CAN accept 6"x8" side plates. There is a flap of Velcro inside each side plate pocket that must be flipped vertically to allow for 6"x8" side plates.
SPARTAN ARMOR SYSTEMS

®

AR550 BODY ARMOR SET OF TWO
Product Overview
Spartan Armor Systems® has literally taken Level III-rated body armor to the next level by adding a 10% increase in ballistic core hardness to their AR550 line of armor. Because of this enhancement, our AR550 level III+ body armor offers operators advanced rifle-rated threat protection and has been special threat validated in an independent NIJ credentialed laboratory. Manufactured and tested within the highest quality standards, utilizing laboratory-certified steel, our single curve, full coat AR550 plates have received NIJ Certification under NIJ 0101.06 level III specifications. For added peace of mind, every plate of armor sold by Spartan Armor Systems® is serialized allowing it to be easily tracked back to the original plate of steel it was cut from should there be any question as to its ballistic properties.
Protective Value Added
We understand the NIJ rating system can be confusing. Simply put, our AR550 body armor is certified as NIJ (National Institute of Justice) level III rated but has undergone special threat testing to achieve a level III+ rating. AR550 Single Curve, Full Coat body armor plates are labeled as level III on the back of the plate as the National Institute of Justice (NIJ) does not currently have a level III+ rating. "Level III+" indicates that special threat testing was created within the body armor industry to fill the void between NIJ 0101.06 level III and NIJ level IV, specifically to account for high-velocity penetrator rounds such as M855 (aka green tips). While AR550 single curve full coat plates are certified as NIJ level III, rest assured they are made from AR550 ballistic grade steel and have been special threat tested to attain the level III+ qualification. Quite simply, the NIJ requires that we label Spartan Armor Systems® AR550 Single Curve Full Coat Plates as "Level III" even though they are capable of providing the operator with a higher degree of ballistic protection.
Battle Hardened
Our AR550 armor hits the "sweet spot" in the Brinell Hardness (BHN) range. With a core hardness of approximately 545-560 BHN, we have found that the ballistically rated variant of AR550 that we use when manufacturing our AR550 armor is perfect for defeating higher velocity threats, while not exposing the armor plate to extreme stress due to forming.
Our AR550 Level III+ armor has our GEN2 lower cut radius, it's much harder than AR500, but not so hard that it risks incurring severe stress while undergoing the formation process.
Laser Cut to Protect Ballistic Integrity
All steel core body armor is cut and shaped after the ballistic properties have been formulated within the steel. While other steel body armor manufacturers commonly use plasma torch cutting that applies excessive heat (25,000 ˚C / 45,000 ˚F) to a wide portion of the steel plate, Spartan Armor Systems® only utilizes laser cutting in order to protect the ballistic integrity of each steel core body armor plate we manufacture. Plasma cutting also requires grinding to clean up the edges after the fact, resulting in increased heat and possible fatigue. At Spartan Armor Systems®, we maintain the highest production integrity and quality standards every step of the way for our customers because we know what is at stake.
Additional Protection: Full Coat or Base Coat Options
We strongly recommend choosing our full coat option when you buy steel core body armor. Our proprietary plate coating, Encapsaloc™, is a potentially life-saving feature that captures spalling as a result of ballistic impacts on the strike face of the steel core armor plate. Do not settle for steel armor that is merely coated with generic truck bed liner spray coatings that have not been tested for ballistic efficacy. The strike face of our Spartan Armor Systems® AR550 Body Armor plates proudly bears the mark of our Spartan logo.
IMPORTANT NOTE: The base coat option only provides protection against corrosion and offers little to no fragmentation/spall mitigation. Should you choose to select base coat plates, please consider adding our Spall Containment Sleeve (sold separately) as a means of fragmentation mitigation.
Blazing The Trail of Innovation
Our AR550 Spartan Body Armor now offers operators the option of coming with the Advanced Triple Curve (ATC) feature. This is an industry FIRST! Spartan Armor Systems®™ is proud to be the LEADER in the industry when it comes to offering our customers triple-curved AR550 body armor. With higher velocity rifle threats commonly present throughout the United States, we've developed this AR550 armor to specifically defeat some common threats such as 5.56 x 45 XM193, 5.56 x 45 M855 /SS109, and 7.62 x 51 (.308 Winchester) at a rated velocity of 3,100 fps or less. Additionally, we've successfully defeated these threat profiles from Close Quarters Battle (CQB) distances…repeatedly!
Configuration: This armor comes as a pair, meaning you will receive both front and back plates.
Shooters Cut Plate Weight (per plate):.
10"x12" AR550 Shooters Cut: Base Coat 8lbs 1oz. or Full Coat 8lbs 10oz.
Thickness: .25″ AR550 plus approximately .25″ coating makes this slim profile plate overall .5-.6″ in total thickness
Side Plate Weight (per plate):
6×6 approximately 2lbs 9oz (base coat) or 2lbs 11oz (full coat)
6×8 approximately 3lbs 6 oz (base coat) or 3lbs 12oz (full coat).
AR550 Body Armor - Shooters Cut Specs:
Made in U.S.A.
Special Threat Tested to Level III+ Standards
Single Curve Base Coat Model is NIJ Certified Level III, But Provides Level III+ Protection
Available in Single Curve (commonly Called "MultiCurve" by other manufacturers) or Advanced Triple Curve™
Full Coat Option Provides Fragmentation/Spall Mitigation, Base Coat Provides Corrosion Protection Only
See a Comparison of Our Full Line of Body Armor: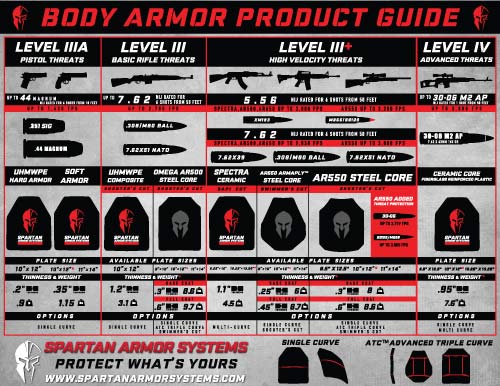 Export Administration Regulations (EAR) and International Traffic in Arms Regulations (ITAR) - US Export Regulations:
Level III and IV rifle rated body armor (Rifle Plates) fall under jurisdiction of the Export Administration Regulations (EAR) and International Traffic in Arms Regulations (ITAR), and are subject to the export control laws of the US Government. Export or re-transfer of Rifle Plates by any means to any foreign end user or for any other end use, whether in the US or abroad without written approval of the US Department of Commerce or Department of State is prohibited.
The sale, transfer, transportation, or shipment outside of the US of any product prohibited or restricted for export without complying with US export control laws and regulations, including proper export licensing, documentation or authorization, is strictly prohibited and may result in civil penalties and/or constitute a federal crime. Spartan Armor Systems, TK Armor Systems, LLC will not engage in any transaction that requires the illegal export of any products and will not assist directly or indirectly with the illegal export or re-export of any products.
Spartan Armor Systems AR550 Level III+ Armor with Spartan Sentinel Plate Carrier Package Package includes both front and back AR550 shooters cut steel armor plates with single curve, base coat, two 6x6 base coat side plates and Spartan Sentinel Plate Carrier. Color options: Black, Coyote Brown, Spartan Green, Gunmetal Grey and Multi-Cam You have the option to upgrade to our ATC Advanced Triple Curve and Full Coat for fragmentation mitigation.

Which Body Armor Plates Should I Buy? | Spartan Armor Systems Comparison: AR500 Omega™ AR550 AR650

Need help selecting the right body armor for your loadout? Thi...

Spartan Armor Systems Advanced Triple Curve Level III+ Body Armor Plates

Overview and testing of our Spartan Armor Systems Armaply™ Adv...

Spartan Armor Systems Level III+ AR550 Body Armor

GET YOUR ARMOR HERE: https://bit.ly/3h9wRlf AMAZON Store: http...

Spartan Armor Systems Laser-Cut Steel Core Body Armor

A quick glimpse at how Spartan Armor Systems steel core body a...