Sidebar
Process for selecting the right size wraparound armor vest
Finding The Right Size Concealable Bulletproof Vest
Covert body armor is worn under your uniform or clothes for discretion. Typically, covert body armor is soft body armor that protects against up to NIJ Level IIIA threats. These threats include most common handgun calibers. Covert body armor has a low profile design that is considered "concealable" and offers the wearer a lightweight, slim and comfortable protection option. For this reason, concealable bulletproof vests are popular with many professional operatives where discretion is of the utmost importance. This includes undercover law enforcement officers, covert military members, bodyguards, security contractors and some private citizens. If you need to keep a low profile, you're going to want a concealable bulletproof vest.
Overt body armor is worn over your clothing or uniform. This type of body armor offers better protection, as it is available in higher NIJ-levels. However, the added protection also increases overall weight and bulk. Overt body armor is appropriate for situations that don't require discretion, such as law enforcement, first responders, overseas contractors, military members and high-speed civilians. You can also pair overt body armor with concealable bulletproof vests for increased protection. Concealable body armor IIIA options are a vital piece to the body armor puzzle, as they are the only covert body armor option and yet can be added to hard armor configurations. Whether you are using concealable bulletproof vest[1] s on their own or combining it with overt body armor, make sure to buy the right size and shape for your needs.
Why size matters
A level IIIA [2] can save your life, but only if it fits well enough to keep you protected. These new wraparound vests are designed to protect the front, back and sides of the wearer's torso. They fit tightly yet comfortably. However, be aware that choosing the wrong sized body armor can leave you exposed in areas that are supposed to be protected.
If your concealable bulletproof vest is too short, it will leave your vital organs unprotected. If a vest is too long for your torso length, it may be extremely uncomfortable and ride up when in action.
How to find the right fit for concealable body armor IIIA
How can you be certain that you're buying the right size concealable bulletproof vest to ensure maximum area coverage and protection? Follow these steps:
1.Refer to Spartan Armor Systems' Sizing Chart to find your size by height and weight. We use your height and weight as a good way to fit a bulletproof vest. However, know that this size might be different than your shirt size. Because bulletproof vests do not stretch and do not have to contain your shoulders, you cannot choose the size of your bulletproof vest the same way that you order a t-shirt
2.Take measurements to verify your correct size. To do so, you'll want to use a flexible tape measure. Measure your waist size starting at your belly button. Keep the tape in line with your belly button as you take it around your back and stop measuring again at your belly button. Double-check that the measuring tape is level as it wraps around your back. For the most accurate reading, you may want to go to a tailor or have someone else help you with the measurements.
3.Confirm that the total number of inches from step #2 are less than or equal to the width for the size you are ordering in the chart. If not, order one size up. The goal of a properly fitted vest is to avoid a gap on either side.
4.Round up. If your measurements come out as being between two sizes, go with the larger size.
5.Try it on. Once you have selected and received your vest, wear it how you would in a real-world scenario. Put on your clothing, as well as any mag pouches and/or tactical gear you'd normally wear. This will give you a true feel for
the size and measurements you've chosen.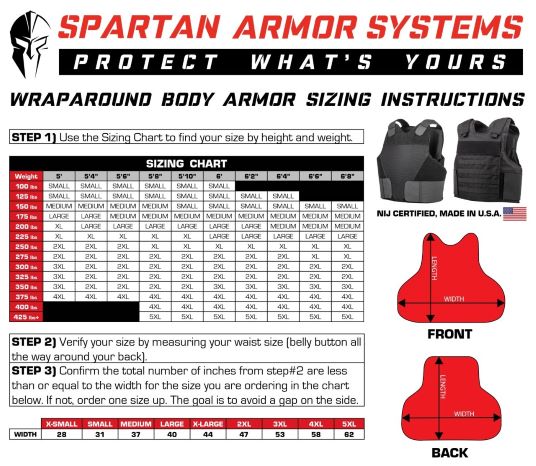 Does sizing differ between vest types?
Sizes between level 3a body armor vests may vary between manufacturers, type, sizes, cuts, etc. Spartan Armor Systems carries two types of level IIIa body armor vests: one for overt use and the other for covert use.
The Spartan Armor Tactical Level IIIA Certified Wraparound Vest is our overt option, designed for superior durability and comfort. For an even better fit, this wraparound is fully adjustable at the shoulders as well as the side closures.
If you're looking for a covert body armor system to be worn under your clothing or uniform, you'll prefer our Concealable IIIA Certified Wraparound Vest. This level IIIA body armor system is lightweight, breathable and water repellant. To ensure the proper fit and maximum comfort, we've included a four-point, adjustable strap system.
Both of our signature level IIIA wraparound vests are available in Small, Medium, Large, X-Large or XX-Large. These wraparound vests can also be used as standalone level IIIA protection systems or in conjunction with Spartan Armor steel core or ceramic body armor plates up to 10" x 12".
Spartan Armor Systems offers custom sizing for all of our plate carries. For customer sizing inquiries, call (520)396-3335 or email leosales@spartanarmorsystems.com.