Sidebar
Should You Buy a Stab-Proof or Bullet-Proof Vest?
If you want to protect yourself from severe bodily harm in a world that's becoming increasingly more violent and unpredictable, you should invest in high-quality composite body armor. But if you feel you need body armor to keep yourself safe, you need to choose the body armor that's right for your needs and the type of threats you think you'll encounter. Some armor is meant to be stab or spike resistant, while others are made to be bullet proof. Some types of body armor offer protection from both, but for the most part stab-proof body armor will not necessarily protect against bullets (or vice versa). Here are some tips to help you choose the right type of body armor.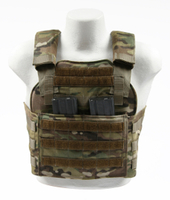 Assess the Threat Level
First and foremost, you will need to assess the threat level you face from knife and gun attacks. If you feel that you are more likely to encounter either a knife attack or gun crime, purchase body armor that offers an appropriate and adequate level of protection against the perceived threat.
Consider Local Crime Statistics
To help you assess the threat level, consider the environment in which you live, work, or wherever you feel you need to wear body armor. If the area is more prone to gun crime or knife attacks, you will have a better idea of which type of body armor to go with.
Buy a Plate Carrier
In the event that you equally fear both knives and gun threats, consider buying a plate carrier that will allow you to swap out the body armor so you can feel safe in any given situation. There are also vests designed to provide adequate protection against both knives and guns if you don't want to worry about changing out the body armor plates.
To purchase AR500 Omega™ steel or composite body armors, browse the online body armor catalog from The Target Man. If you have any questions about our body armor plates and carrier vests, contact us online or at (520) 396-3335.