Sidebar
Steel Core Body Armor: Selecting the Right Shape and Curve
For most people, buying body armor plates is something that they'll do once or maybe twice in their life. We want to make sure you get setup with the right body armor the first time. In this article we'll be covering the fundamental choices you'll be faced with when you buy steel core body armor.
Swimmers Cut vs. Shooters Cut
Our steel core body armor is available in two shapes: Shooters Cut and Swimmers Cut. We're commonly asked by our customers which body armor plate shape is better. Both shapes of body armor have their pros and cons, with tradeoffs that have to be considered carefully. Would carrying 2-3 lbs less in body armor weight and increased maneuverability give you the advantage in a life or death situation? Would it be better to have more coverage/protection near your shoulders? These are questions only you can answer, but it's an important thought exercise to think through possible threat scenarios. If you favor more protection, then we recommend a Shooters Cut plate. If you prefer to carry less weight and have more range of motion in your shoulders, then we suggest Swimmers Cut plates. Here's a quick comparison of the benefits between the two body armor shapes.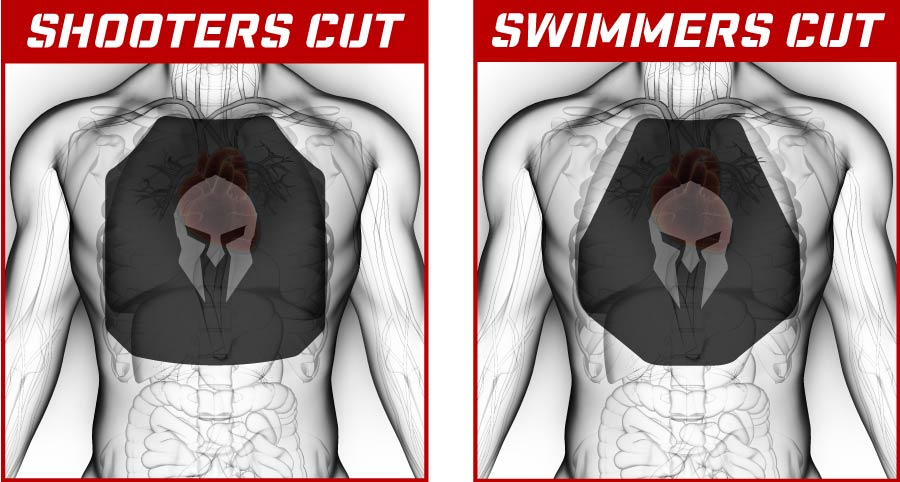 Shooters Cut Benefits
Swimmers Cut Benefits

More protection for shoulders
Compatible with more plate carriers

Greater range of motion in shoulders
Weighs aprox 1 pound less per plate
Better fit for women or slender body types
Single Curve vs. Advanced Triple Curve
Once you've identified the shape of armor that fits your needs, next you'll need to choose the curve of your body armor plates. This feature goes beyond simply feeling comfortable, especially if you are in a situation that requires wearing your body armor for more than 20-30 minutes. While single curve body armor is better than a flat plate, it's nowhere near as comfortable as our proprietary Advanced Triple Curve™ (ATC) design. The three curve zones in our ATC body armor allows it to better conform to the shape of your body. The increased ergonomics becomes readily apparent when first putting your carrier on, but even more so when fatigue starts to set in after wearing your armor for an extended period of time. Discomfort leads to distraction and distraction leads to reduced situational awareness. For a little more than $50, you can have armor that increases your comfort and reduces fatigue. The red lines in the diagram below illustrates the three bend zones that make the ATC design.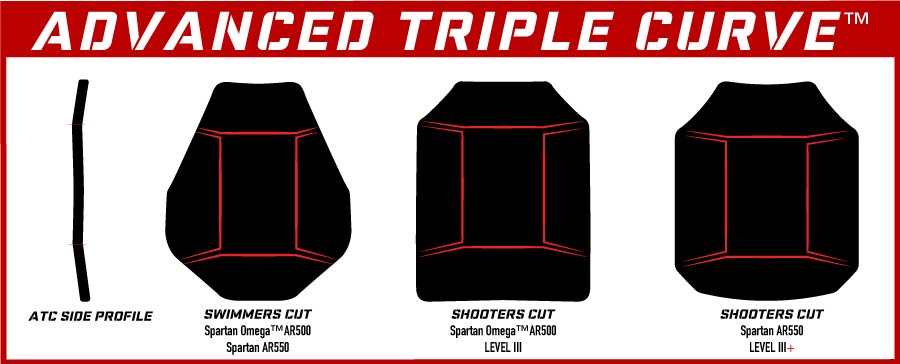 Related Products
To many people, buying body armor can seem like a big expense. Steel core body armor is designed to last 20+ years so if you get the right armor the first time, then you're set for many years to come. We strongly recommend getting a full coat of our Encapsaloc™ coating which will help mitigate secondary fragmentation injuries. We also offer Spall Containment Sleeves which are also designed to capture spall/fragmentation. To learn more about fragmentation (aka spalling) check out this article. Need additional help selecting the body armor that's right for you? Please contact so we can get you taken care of!
Get in Touch: