Sidebar
FBI Active Shooter Incidents 20 Year Summary
The FBI recently completed their 20-year report of active shooter incidents, which took place between 2000 and 2019. The total number of incidents add up to 333 for the 20-year period. It's important to note that the FBI defines an "active shooter" as "one or more individuals actively engaged in killing or attempting to kill people in a populated area. Implicit in this definition is the shooter's use of one or more firearms. The "active" aspect of the definition inherently implies the ongoing nature of the incidents, and thus the potential for the response to affect the outcome." In this article we'll be taking a look at the most relevant and useful data taken from the FBI's 35-page report as it relates to personal safety and body armor.
All data for this article can be found in the FBI active shooter incidents 20-year review.
Active shooter incidents have unfortunately become an increasingly common occurrence in news headlines. To get the elephant out of the room, we believe that this reporting should never be a reflection on law abiding gun owners or used as a political tool to dismantle second amendment rights. We can however, look for patterns in the methods used by deranged killers to determine how to best protect ourselves and our loved ones. The first chart below gives a general summary of the 20-year report. One interesting takeaway is that the FBI is actively monitoring the number of shooters who wore body armor during an incident (16 shooters or 4%). It's also important to note that 195 out of 345 active shooters (or 56%) leave the crime scene in a body bag. This means that should you find yourself confronted by an active shooter, there is a little better than a fifty-fifty chance that you're dealing with a criminal that isn't going to be subdued by calm and rational discussion. According to the FBI, these numbers do not include gang violence, drug violence, domestic violence or hostage situations (see most recent report here).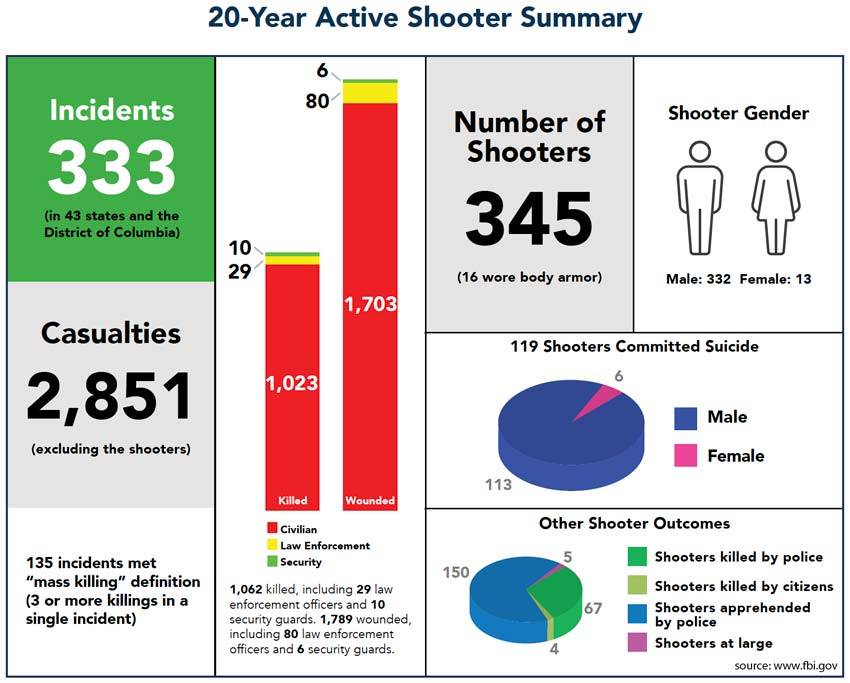 To make this report data more useful, next we'll look at the number of active shooter incidents by state. It's no surprise that most of the states containing cities with dense populations tend to have a higher number of active shooter incidents. Not all of us are in a position to easily pick up and move to states with lower crime rates. However, just about anyone can buy body armor to increase their personal protection. Unfortunately, this FBI report does not draw distinctions between the motives of the shooters. However, we can take a closer look at where these shootings are occurring to determine what sort of scenarios you would want to factor into your purchase decision when you're shopping for body armor.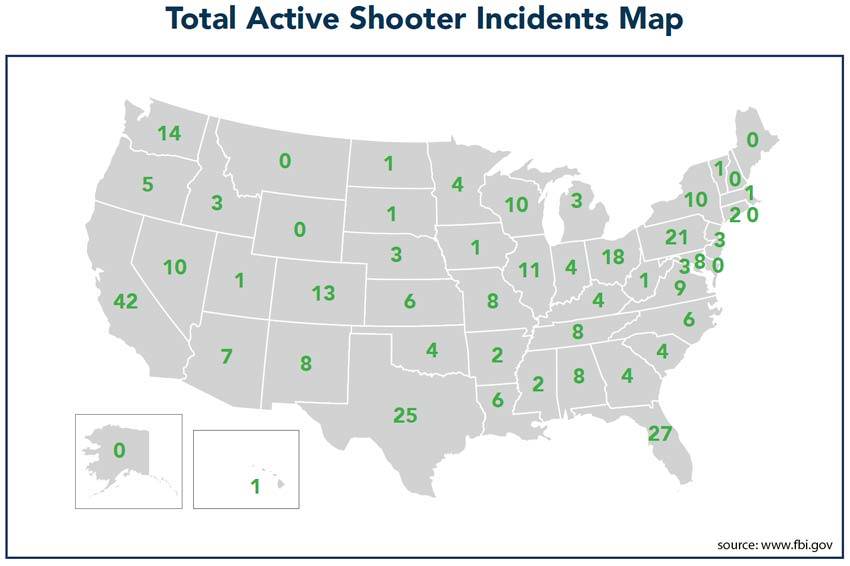 This next chart provides a good overview of where these active shooters are focusing their attention. This day in age it's important to give some careful consideration to different locations where you spend your time. If you're spending time in a crowded location such as city parks, malls, or schools then you should be extra alert of your surroundings. You should also seriously consider wearing easily concealable body armor as means of protecting your vital organs. There are numerous active shooter incidents where shooters fire indiscriminately into a crowded area.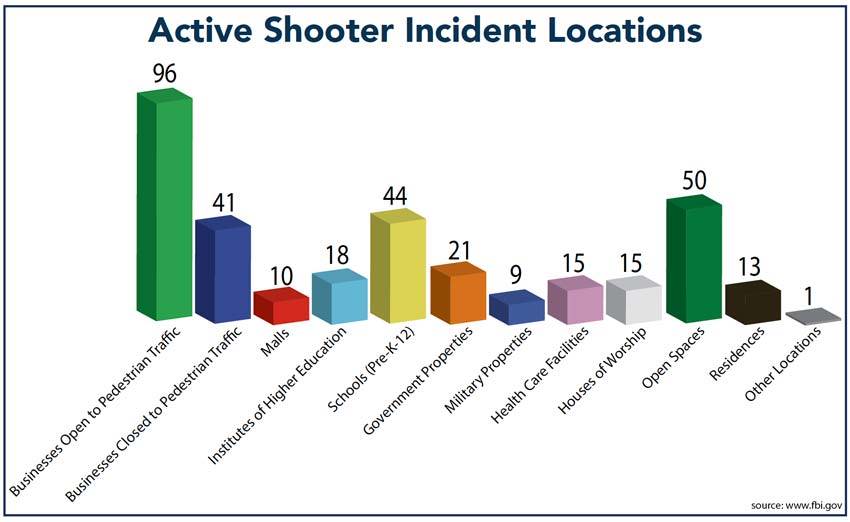 So which direction are active shooter incidents trending? Unfortunately, the chart below depicts a steady increase in active shooter incidents. The numbers compiled for 2020 thus far by the FBI shows a significant jump to 40 active shooter incidents. As the rule of law continues to erode in the United States, it's only going to likely lead to more tragic incidents. So, what can you do? At minimum, you should practice and hone your situational awareness. However, you can increase your safety and peace of mind with products such as medical kits, body armor and weapons to be used in self-defense. Our AFAK (Advanced First Aid Kit) has life-saving medical supplies designed to stop traumatic bleeding. A simple tourniquet can mean the difference between life or death and can be easily carried in pants pockets or a purse.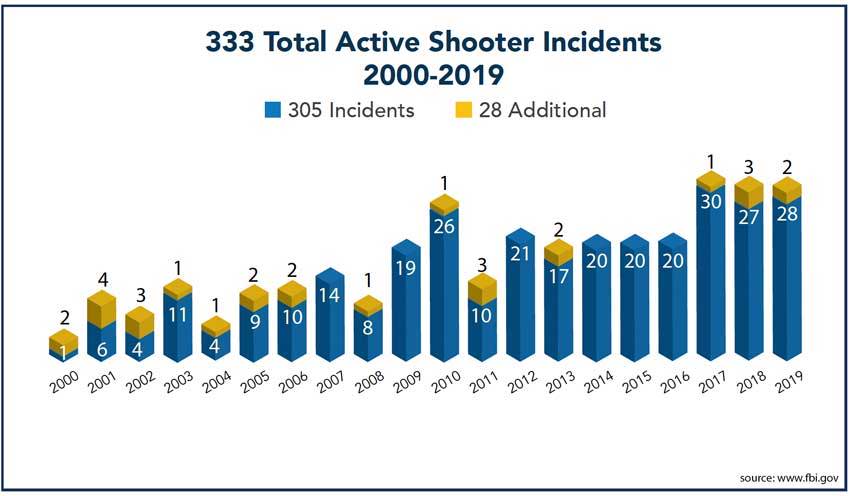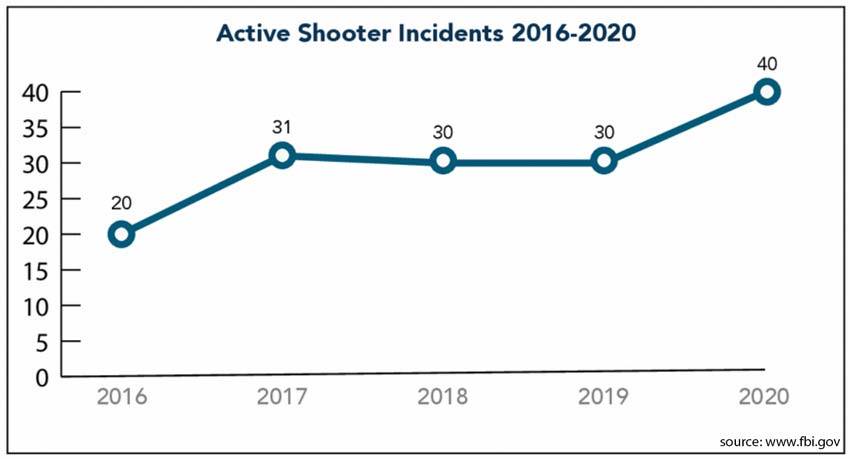 While the data provided in the FBI's 20-year review of active shooter incidents is certainly troubling, we can use this information to better prepare for the worst. Having emergency body armor, medical kits and a means to defend yourself is a prudent and responsible choice given the crime spikes we have seen in most major cities. There have been reports across the country of increased police response times and even cases where police officers have been ordered by their superiors not to respond at all. If you're considering body armor as a means of protecting yourself or your loved ones, we can help you get the gear that's right for your situation. Please don't hesitate to contact us with any questions, we're here to help!
Get in Touch:

Phone: Give us a Call at (520) 396-3335 9am-5pm Monday – Friday
Email: info@spartanarmorsystems.com
Facebook Messenger: https://www.facebook.com/spartanarmorsystems
Instagram Direct Message: https://www.instagram.com/SPARTAN_ARMOR
Products Related to This Article