Sidebar
Spartan Armor Systems Medical Kit Saves Lives
Imagine you're working in your garage or in your back yard, just an ordinary day in a quiet neighborhood. Suddenly you hear someone screaming for help. You run as fast as you can towards the pleads for help only to find a neighbor covered in blood. There's no way an ambulance will be on the scene in time to prevent them from bleeding out. What would you do? Alex Banaga, a New Jersey Law Enforcement Officer, was recently in a very similar emergency
Alex had made a trip to visit his grandmother's house, and luckily for his grandmother's neighbor, Alex was outside in the back yard to hear the cries for help. Immediately, Alex's instinct to run towards those in need took over. Alex went to the front yard to see what was happening. To his dismay, the man next door had accidentally gotten his clothing caught in an active sawblade, which pulled the man's arm in, and severed it in two.
A situation such as this would tend to put many people into a state of shock, or cause them to begin to act frantically. Alex, however, kept his wits about him. Sometime back, he had purchased one of our Advanced Individual First Aid Kit (AFAK), and rushed to his truck where he kept the kit.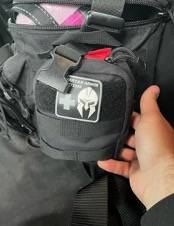 Using the tourniquet and trauma dressing provided in the kit, Alex managed to stop the bleeding, saving the man's life, and giving the paramedics time to arrive shortly after to apply further care.
The man survived, and had Officer Banaga not had the wisdom to ensure he was prepared for a situation like this, his grandmother's neighbor may have died. It's moments like there where we value the wisdom to account for the unexpected. There's no telling when you may be in the position to save the life of another. A simple tourniquet, such as those in our AFAK, can buy the time needed for paramedics to arrive on the scene.
Spartan Armor Systems is here to help. Keeping people safe with our body armor, & survival gear like our Advanced First Aid Kit.
We would like to extend our appreciation to Alex Banaga, and send our wishes for a speedy recovery to the man whose life he saved.

Stay Prepared.
Protect What's Yours.