Sidebar
American vs Russian Rounds: Part 1
By: Rob Orgel, Emergency Response Tactical
In this article we'll be comparing some of the most popular American and Russian military ammo rounds side by side. We'll be taking a look at weapon platforms, projectile speeds, feel and ammo cost. Keep an eye out for a follow-up part 2 video where we will later put these rounds to the test against different types of body armor to see how they perform.

The Rounds
Let's set the stage. We are looking at the predominant calibers of both military over the last ten-plus years. We will be setting our sights on the two primary American military rounds, the 5.56x45mm M855 and the 7.62x51mm M80 ball round. Sure, there are new rounds that have a ton to offer the modern shooter and we will look further at those in another segment.
In the Russian corner, we will be focusing on the 5.45x39mm and 7.62x39mm M43 and the 7.62x54R.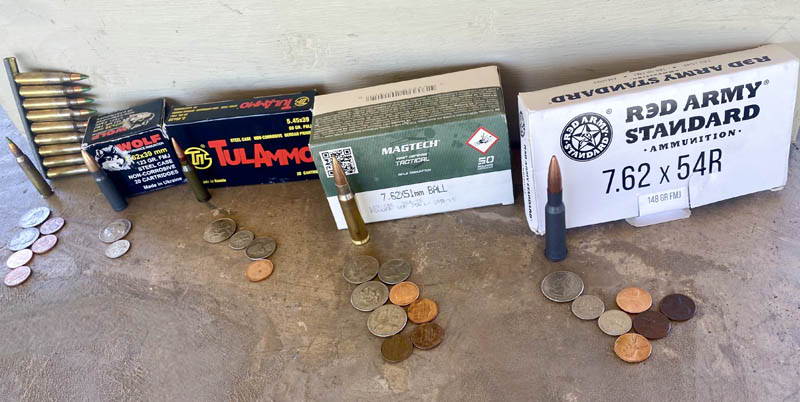 American Weapon Platform
What is the USA platform? For the M855 we will be using there are many USGI weapons that shoot this round including; M4, M249, M16, HK M27, Daniel Defense MK18, and many more. For our test we will use a Colt M-4 with a 14.5" barrel as this is the most common weapon found in the American infantry.
The larger 7.62NATO round is commonly used in the; M240 and MK48 belt-fed Machine-gun, The M40 Bolt action sniper rifle, SR25 semi-auto sniper rifle, as well as a few more platforms. We will be using a bolt action M700 with an 18" barrel with a suppressor. Normally the more precise rifles would use the LR118. This is a long-range round and would be a match 175g projectile. Again, as we are going with the most common we will be using an M80 Ball round in our rifle. This is typically a 147g bullet more organic to the machine guns and battle rifles.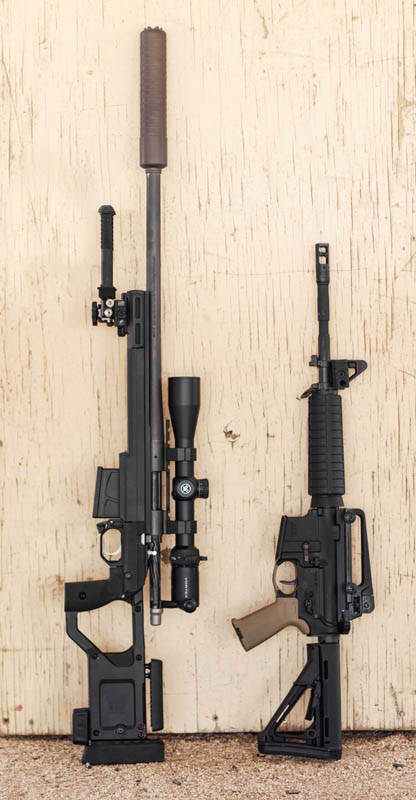 Russian Weapon Platform
What is the platform of Mother Russia?
The 7.62x39mm is one of the most popular rounds in the world and it is mostly used in a 16" AK-47 of some type. For our testing we will use a KUSA AK47 with a 16" barrel. Here are other weapons that shoot this ammo; The SKS, RPK, RPD, and a long list of variants as well as additional platforms.
The smaller and faster 5.45x39mm round you will find AK74's to be most common and accompanied by many more rifles and machine guns, much like the AK47. We will be using an IWI Gailil with an 8" barrel as this is very close to the AKS-74U in size.
For the Longer chambering of the 7.62x54R we will be using a Mosin-Nagant that is Russian-made and carries a model number of (M91/30) this is a bolt action rifle. This cartridge is used in so many bolt action, semi-auto rifles, and machine guns that I will not begin to list them.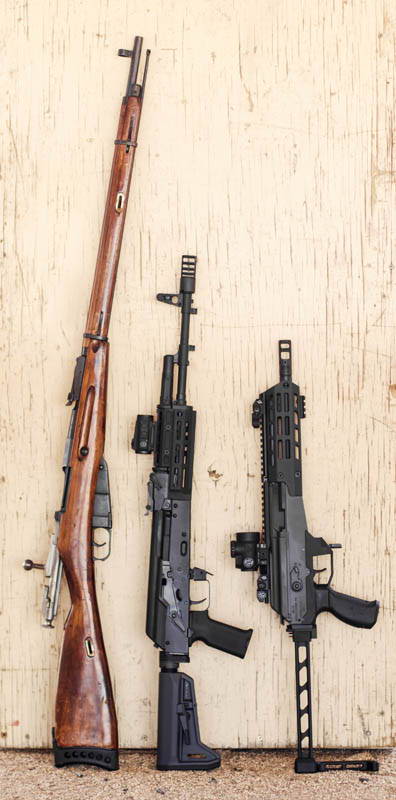 Projectile Speed

The graph below will show each caliber, bullet weights, common muzzle velocity as well as the results as measured in our tests at the muzzle from a Labrador chronograph. All are measured as Feet Per Second (FPS).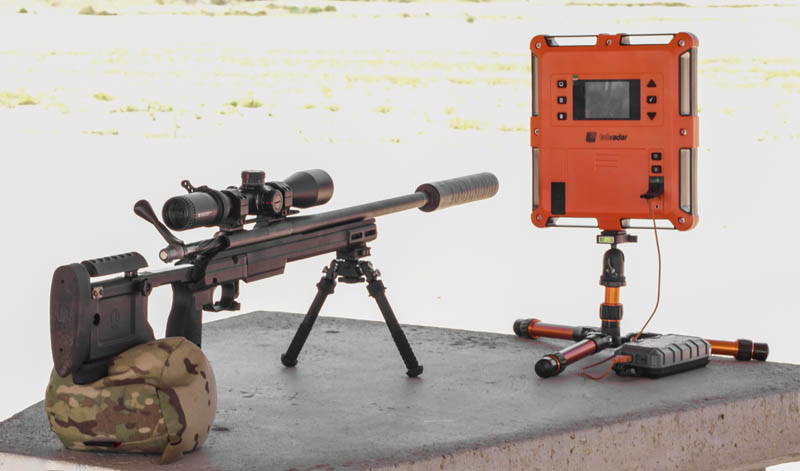 Side note, as an added bonus we were able to get our hands on just a few of the 5.45x39 7N6 "armor piercing" rounds, so we added it below the AK74. This also sets a fair playing field as we are comparing M855 green tip ammo. We included both types of AK74 ammo in our test because the 7N6 ammo is hard to acquire due to an import ban in in 2014.
| | | | |
| --- | --- | --- | --- |
| Caliber/Weapon | Bullet Weight | Typical Speed (FPS) | Test Average (FPS) |
| | | | |
| | | | |
| | | | |
| | | | |
| | | | |
| | | | |
How They Feel
Now that we have bullet weight and speed, let's look at the feel when you fire them. There are many ways to reduce recoil with recoil pads, muzzle brakes, suppressors, and other little things that help. Let us be general and view each as a caliber across many systems and not just the ones tested today.
The 5.56 Nato - is a light recoil, fast and flat shooting round. This makes it hard to not be in love with them. It is easy to see why it is America's sweetheart.
AK-47/74 - while it has more recoil, in most systems you'll find the system to be heavier overall and this counterbalances that increased recoil. This is hard to put into words. There is something about the AK, as it moves through its cycle of operation. With each shot it feels very different in my hands. It's almost like I can feel the weapon going through its process.
7.62 USA and Russia - I will couple both of these together as they both have a sharp recoil. It is hard to play in this arena knowing there are so many modern calibers that shoot smoother and fly better.
Ammo Cost
Time to consider a large factor, the cost. Ignoring the cost of the weapon as this can vary so much depending on what rifle you chose, let's just look at the cost per round. The numbers change almost daily, the date of this write-up is 4/11/2022 and estimates came from (AMMOSEEK.com).
We selected the best price for reputable brands only. For all Russian ammo, we chose steel cased and for all American ammo, we chose brass cased.
In conclusion, each has its own "Pros and Cons", especially when considering the cost of ammo. I am a firm believer in testing, but often we don't have the time and or finances to buy and test each of these calibers. So please allow us to help. Join us again for the release of our upcoming body armor testing video featuring all of these rounds. The upcoming video will save you lots of time and tons of money as we shoot thousands of dollars in body armor to gain knowledge of ballistic capability and protective solutions.
About the Author:
Rob joined the USMC in 2004 with a military occupational specialty of 0311 (Infantry Rifleman). Assigned to 3rd Bn 1st Marines, Rob participated in a deployment to Iraq (OIF-3) as a point man followed by an assignment as Team Leader for the 13th MEU Special Operations Capable to Iraq (OIF-6). In 2007, he joined 1st Marine Regiment and reenlisted to deploy to Afghanistan. InJanuary 2010, Rob was promoted to the rank of Sergeant & continued to serve 1st Marine Regiment for a year-long deployment in Afghanistan. On return from Afghanistan, Rob was assigned to School Of Infantry West to work as a Combat Instructor (CI) for the USMC where he trained thousands of Marines to gain the skills necessary to survive. Rob exited the USMC in 2014 & was immediately picked up by Securing our Country (SOC). As a private military contractor, Rob was responsible for training the specialty teams of operators at the American Embassy in Iraq. Shortly after leaving Contract in 2018, Rob became the Chief Instructor of GPS Defense Sniper School. Rob now gives 100% of his attention to Emergency Response Tactical training all levels over 320 days a year as his passion & full-time job.
You can read his full bio here.
Photos by Vivid Focus Images