Sidebar
Why Every College Student Needs a Backpack Armor Panel for Campus Safety
Two gunshot wound survivors are suing Michigan State University (MSU) following the February 2023 attack that left three dead and five critically wounded. The two students are making the case that MSU didn't provide the campus safety protections they should have.
We're glad to hear that in the weeks following the attack, MSU added security precautions like new locks and cameras. But no matter what an institution does to keep its people safe, it's no substitute for individual situational awareness, personal safety gear, and proper training.
One item that's been rising in popularity is backpack armor. But what exactly is backpack armor?
The Rise of the Bulletproof Backpack
The National Center for Education Statistics reported 28,400 criminal incidents against persons and property on campuses in 2018. The incidents ranged from burglaries and motor vehicle thefts to serious violent crimes. Victims of violent crimes on campus make up a relatively small fraction of the overall college population, but students should not be sitting ducks when it does happen.
Simply put, college campuses should be safe havens for students. That's not always the case. It can be a time for fun and growth, but it shouldn't be a time for insecurity and fear. That's why there's a growing need for personal safety gear among college students.
Students carry backpacks.
Spartan Armor Systems is turning those packs into something that has their backs.
When we talk about ballistic-rated backpacks, frequent questions arise:
Why would I need a bulletproof backpack?
What is a bulletproof backpack?
Are bulletproof backpacks legal?
Do bulletproof backpacks work?
The term bulletproof causes a language problem since it implies the product can defeat all bullets, all the time, forever. We'll use it occasionally since it's such a commonly used expression. But we'll try to refer to the items as backpack armor or backpack armor panels. That's a more accurate term and if you read on, we'll give you an idea of what threats they can and can't stop.
Why would I need a bulletproof backpack?
The FBI Active Shooter Statistics showed an average of about 13 active shooter incidents between the years 2000 and 2016. That average jumped to 28 incidents between 2017 and 2019. In the year 2020, there were 40 active shooter incidents.
Over the 20-year period between 2000 and 2019, 18 of the 333 active shooter events occurred at institutes of higher education. And about five times as many happened at locations that, like college campuses, are open to pedestrian traffic.
We're not trying to scare you. We're trying to prepare you.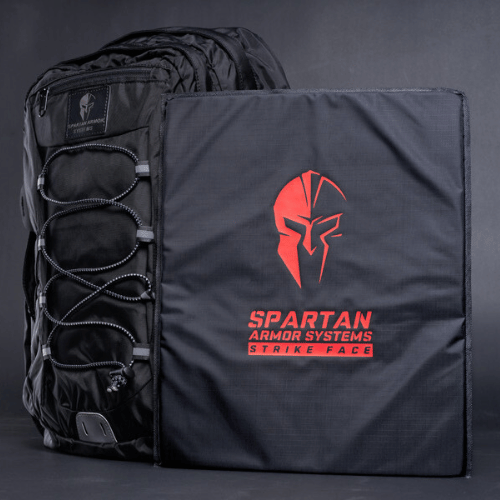 What is a bulletproof backpack?
A bulletproof backpack, or backpack equipped with an armor panel, is a rugged bag designed for everyday carry with an armored panel inserted inside. It looks like a bag you would use for school or business, but it may include MOLLE panels and other features typically only found in high-end mountaineering bags. You can wear it on your back or rotate it to your torso in the event of a shooting. The whole setup is designed with comfort and protection in mind.
Are bulletproof backpacks legal?
The backpack itself is not the target of legislation or school policy. The item in question is the armor panel. We recently did a blog post on the legality of body armor in general and on campus. There are several questions to work through. You'll want to check that out here.
Do bulletproof backpacks work?
The short answer is yes. But the types of rounds your backpack armor can defeat depend on your chosen plate. We design our inserts for the VIKTOS bags we sell, but you can match them with whatever bag you want. We recommend purchasing the backpack armor panel set with the VIKTOS backpack on our site since the panel comes fitted and pre-installed for convenience.
As with a plate carrier, the actual backpack is not ballistically rated. The Spartan Armor Systems Flex Fused Core™ Soft Armor Backpack Panel comes with Level IIIA protection, capable of stopping bullets from most handguns. This includes the following:
.40 S&W

.357 SIG

9MM

.45 ACP

.38 SPECIAL

.357 MAG

.44 MAG
Check out our video Testing IIIA Armor at Point Blank Distance to see how our Flex Fused Core™ Soft Armor panel holds up.
What About Rifle Protection?
As mentioned above, you can opt for whatever armor you want in your backpack. Our concern is we want you to carry this thing wherever you go. Just like having a concealed pistol, you need it to be comfortable or you're not going to use it.
If you're looking for rifle-rated protection, you'll need a Level III plate, which means sacrificing comfort. You'll be lugging around an extra 10 lbs in your bag on top of those Philosophy and Physics books.
If you feel strongly about that, we won't discourage you. But here's what the FBI statistics show:
33,075 homicides committed with a handgun between 2015-2019.

1,573 homicides committed with a rifle between 2015-2019.
That's an average of 6,300 more handgun homicides per year than rifle homicides. So, what can you do to protect yourself against the most common threats?
Introducing the Flex Fused Core™ Soft Armor Backpack Panel
Spartan Armor Systems' Flex Fused Core™ Soft Armor Backpack Panel is a testament to American craftsmanship, quality, and ingenuity. When you order one, this is what you get:
Assuredness that you have an added layer of protection against most handgun rounds.

Comfort of flexible ballistic material, also known as Kevlar

Easy to carry at only .35" thick and 1 lb 9.4 oz per 11" x 14" panel.

Satisfaction of supporting American-made goods, manufactured in-house in Tucson, AZ.

Varied sizes available for sling bags, purses, and other handbags.
The Backpack Armor Panel is not just a piece of safety gear; it's peace of mind.
Conclusion
Spartan Armor Systems empowers college students to take control of their safety on campus. Whether walking to class during the day or heading home late at night, the Backpack Armor Panel provides the protection you need. For more information on preparing for potential safety concerns on campus, check out our blog post, Safety Tips for Protecting Yourself on College Campuses from Spartan Armor Systems.