Sidebar
Back to School Safety Gear: Is Body Armor Legal on Campus?
"Body armor designed for war zones has no place in our neighborhoods,"said a New York congressman recently. As lawmakers in that state continue to work toward a civilian body armor ban, the resulting legislation is often confusing for law-abiding citizens.
Combining these bills and individual school policies leaves students wondering, is body armor legal on campus? The answer is more than a simple yes or no. But give us about three minutes, and you'll better understand whether you can legally use body armor at school.
First things first: Who would need body armor at a school?
Why Would You Need Body Armor on Campus?
Though mass shootings on campus aren't widespread, almost one fifth of all active shooter incidents between the years 2000 and 2019 occurred at institutes of higher education. The images of those events still haunt students, parents, and faculty. Equipping yourself with personal safety gear like body armor can provide peace of mind if you must face that sort of chaos.
Are we just talking about security and campus police? Certainly not. In the wake of the 2007 Virginia Tech massacre, college safety became a priority, and schools had to overhaul their security programs. We're talking about a safety plan for all, students included.
Is It Legal to Wear a Bulletproof Vest to School?
The confusion on this topic is real. Is it legal to wear body armor in public? Are civilians allowed to wear body armor? To get your answer, let's walk through the following four steps:
What are your intentions?
Where do you live?
Do you have a criminal record?
What are your school's policies?
What are your intentions?
Chances are you're reading this because you're interested in lawful personal protection and self-defense. Those interested in wearing body armor during the commission of a crime don't care whether it's legal anyway. And as you'll see below, it's not.
Where do you live?
Most states have similar laws, mainly restricting the wearing of body armor in the commission of a crime. But it's essential to be sure your state isn't an outlier. For example, a 2014 Louisiana law also criminalized wearing or possessing body armor by a student or nonstudent on school property, at school-sponsored functions, or in firearm-free zones.
It would be best to familiarize yourself with your state's body armor laws. Spartan Armor Systems has made this easy with our Body Armor Laws by State page. There, you'll find a simple jump-to-state tool to quickly determine your state's stance.
Do you have a criminal record?
As for federal body armor laws, the section to be familiar with is 18 U.S.C. 931. This section of the law prohibits convicted felons from purchasing body armor. There are exceptions for those who need to wear it for work. But for now, we're talking about who can wear armor as a student on campus. If you have a felony on your record, it's best to seek professional legal guidance first.
What are your school's policies?
Gun owners know that even in constitutional carry states, you can still face restrictions when entering somewhere like a place of business.
So, is body armor permitted on campus? It would be impossible for us to lay out all school policies, so that's something everyone must research about their specific school.
How to Stay Protected While Blending In
Let's say you went through all four steps, and it's a go. Can you wear a tactical vest in public on your way to your next class? Maybe. Is it ideal? Probably not, since you're not looking to draw unnecessary attention and raise alarms on campus. But you do have other options.
Backpack Armor: Just about everyone on campus is carrying a backpack. How easy is it to slide an armor panel inside? Spartan Armor Systems Backpack Armor is as discreet as possible while offering the same protection level you'd have in a vest. At only one pound in weight, you can carry our 11"x14" backpack panels in most backpacks, laptop cases, or briefcases.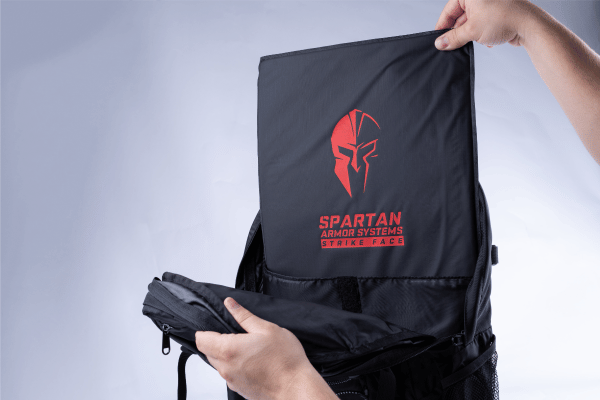 Concealment Shirt: Many people don't realize this is even a thing. But yes, you can comfortably wear body armor panels in an undershirt, totally concealed by another layer of clothing. Spartan Armor Systems calls it the Ghost Concealment Shirt. Not only do they offer 10"x12" front and back panel coverage, but also 5"x7" panels on each side.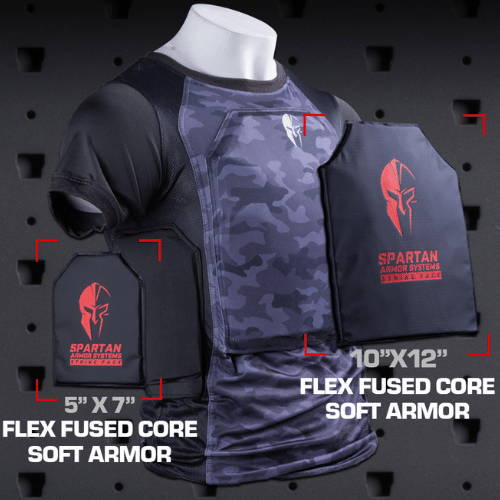 Conclusion
On the heels of various high-profile killings in the last several years, there's a rising concern for safety in public places, including colleges across the country. It may have sounded ridiculous to people in years past, but body armor can be vital to your overall college safety plan.
We hope this guide helps anyone unsure about whether you can wear body armor on campus. Just ask yourself the four questions we went over to remain law-abiding and safe. Remember to visit our Body Armor Laws by State page and check back for more back-to-school campus safety tips from Spartan Armor Systems.
Disclaimer: The information provided in this blog post does not, and is not intended to, constitute legal advice; instead, all information, content, and materials available in this post are for general informational purposes only. Information on this website may not constitute the most up-to-date legal or other information.