Sidebar
Top 5 Places to Consider Wearing Body Armor
Ten years ago, body armor wasn't a normal purchase. However, over the past decade, we've seen a very noticeable change in crime.
Changes to bail laws and more lenient sentences have sparked a dramatic increase in violent crimes. Mass shootings are happening more often, and homicide is up 26% from 2010-2020.
With crime on the rise, even in smaller cities, body armor is now a realistic consideration for many citizens who are concerned about the safety of themselves and their loved ones.
It doesn't have to be all doom and gloom though. When you buy body armor, you are also buying peace of mind. In this article, we're going to take a look at the top 5 places to wear body armor and the ideal bulletproof products for those situations.
1.  High Traffic Public Areas
According to The Violence Project, shootings in public places are on the rise, and 77% of them are with Handguns.
One of the factors to take into account is that in most of these public areas, you might see a sign that says "No Firearms". This is just a welcome sign for criminals.
These gun-free zones tell criminals, that more than likely, the people inside do not have a way to defend themselves. Unless there is dedicated security, which is usually scarce and spread out throughout the premises.
Type of Body Armor
When in public, you probably don't want to attract too much attention. Wearing full-out tactical gear on your Sentinel Plate Carrier might not be the best option when just going shopping with your family.
According to FBI crime stats, 17x more homicides are committed with handguns than rifles. This means that most of our focus should be on stopping handgun threats while still keeping your body armor discreet.
Our recommendations for concealable bulletproof vests would be our Ghost Shirt with Level IIIA Soft Armor Panels or the Concealable Wraparound Bulletproof Vest.
Both are great options for staying protected while wearing whatever clothes you want in public. Body armor that stops handgun rounds (also known as level IIIA body armor) is great in that it is thin, lightweight, and easy to conceal.
Other options such as our Flex Fused Core™ backpack body armor are easy drop-in solutions for most backpacks, laptop bags, and briefcases. If you would like to add additional stab resistance, you could look to our Armis level IIIA hard armor which provides the same handgun protection up to a .44 MAG, but in a hard plate.
2.  The Shooting Range
Ever look up at the ceiling or overhang when at a public shooting range? It's very common to see bullet impacts above and below where the bullets are supposed to go.
Wearing body armor while training at a gun range is important not only for safety but also familiarizes you with your gear. Shooting while wearing body armor changes your body mechanics and positioning, especially when shouldering a rifle.
Bottom line is that if you know you are going to be in a place that has a higher likelihood of accidental shooting injuries, body armor is an essential piece of gear. Even though unintentional incidents are on the decline, according to this study from 2018, incidents still happen.
That's why we recommend wearing your body armor every time you go to the range.
Type of Body Armor
When choosing body armor for the range, think about what you plan on shooting with. You also should anticipate what other people might be shooting-based on your experience if you've been to that specific range before.
If you plan on training with your AR15 or other Carbine, then you should investigate wearing level III, III+, or even level IV armor plates, if you have them. A great all-around pick that we recommend is our Level III+ AR550 Steel Body Armor Plates with a high-quality plate carrier like our Laser Cut Achilles Plate Carrier.
*Note* Looking for lightweight level III+ plates? Check out our Ceramic/Composite Level III+ Plates that are coming out very soon. Sign up for emails and SMS to get notified first when they are available.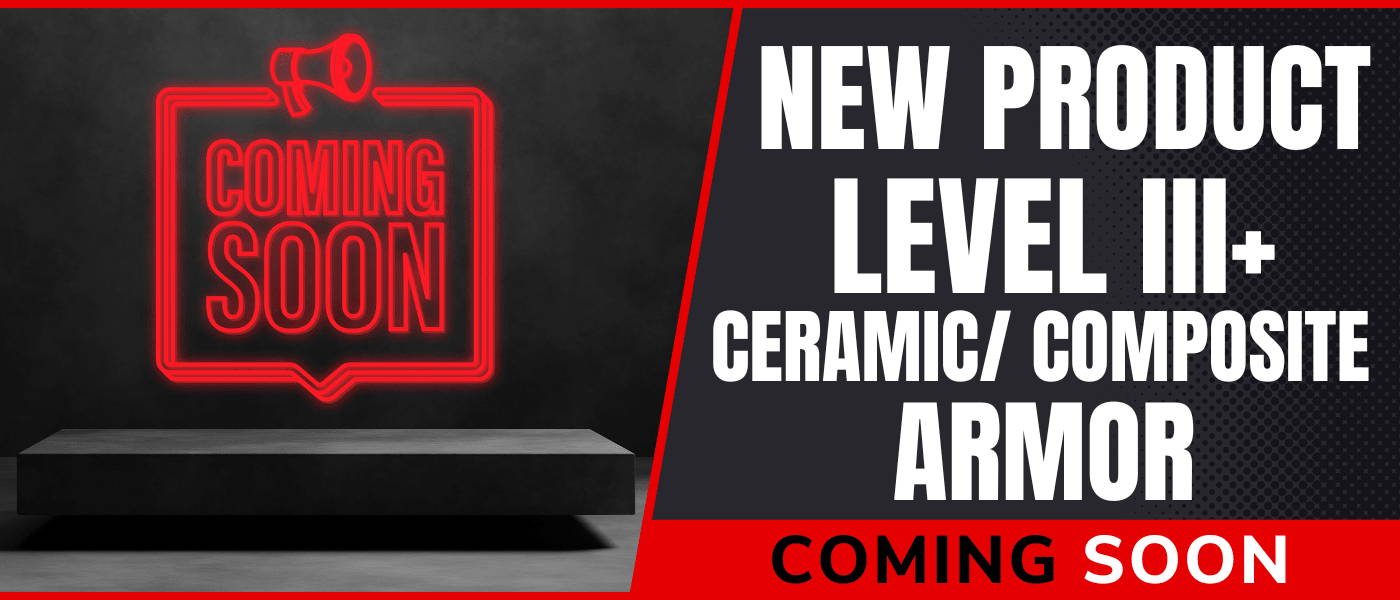 One tool to remember is a med kit. Body armor is a great first step, but having a med kit such as our Advanced First Aid Kit (AFAK) will provide the life-saving equipment necessary should an accident occur. This allows time for EMTs to get on the scene or to evac to a hospital. Check out our full line of tactical accessories.
3.  Home Sweet Home Invasion
This location is one with many variations when considering body armor types. You need to understand your threat level when you are at home.
Are you in a location that has a higher crime rate? What kind of crimes? What types of weapons are used during these crimes in your neighborhoods? These questions can be answered by checking out your local city or county police/sheriff's website or other sites, such as SpotCrime.
Read more here about home defense weapons and strategies.
Type of Body Armor
If you are needing protection from the type of weapon that is the most used in homicides, which is handguns. Then you need to consider Level IIIA Body armor.
This just so happens to also be the most comfortable armor you can find. At home, relax on the couch while wearing something like our DL Concealment Plate Carrier packed with our Flex Fused Core™ Soft Armor Panels.
If you need a higher level of protection, check out our Plate Carrier and Body Armor Packages. Get all the items you need to protect yourself with 5% off on our Bullet Proof Vest Packages.
4.  At School
Universities, high schools, and even elementary schools have become targets of mentally deranged criminals looking to go out in a blaze of violence. We have talked about staying safe at school in a few different articles. Most campuses, whether Elementary or College don't allow Firearms to be carried. As stated earlier, can lead to targets of crime.
Type of Body Armor
Stay safe even at school with our concealable backpack armor plates. Read more here to see how you can even make a bulletproof backpack. Other options would be similar to our suggestions made in the high-traffic public areas above, go with something concealable such as our Ghost Concealment Shirt or IIIA Wraparound Concealment Vest. Another option that could fit this scenario is our Tactical Response Kit or Active Shooter Response Kit which can be stored in a desk or closet.
5.  At Work
This last location is critical. Other than possibly your home, the workplace is where you spend most of your time.
Like what we talked about at home, you need to understand your threat level. Is your office downtown? Do you work at a construction site on the edge of town or in a high-crime area? Again, do some research on your specific location and see what the threat level is.
The other thing to ponder is your workplace's rules and thoughts about body armor.
I work at a body armor company, so If I'm walking around with my fully decked-out Leonidas Legend Plate Carrier with Hercules Level IV Ceramic Plates and my AFAK (Advanced Individual First Aid Kit), it's not out of the ordinary. I could be going straight to the range after work.
In an office downtown, you might get a few odd looks if you do that. Lucky for you, Spartan Armor Systems® provides the best of both worlds.
Need to know if body armor is even legal in your area? Check out our rundown by state here. The short answer: if you don't have a felony on your record and if you don't live in New York, then body armor should be legal but it's best to know your state laws.
6.  Bonus: First Responders & EMS
Some professions are required to have body armor. "Required" if you want to be protected in any situation. Police, Sherriff, and Border Patrol are some, just to name a few.
Check out our Active Shooter Kits and Tactical Response Kits, which are tactical gear sets made specifically for police and other first responders.
Are you a firefighter, EMT, or another first responder? You do everything you can to protect and save the people in your community.
Now it's time to act about YOUR safety and protect yourself with body armor. Stories are popping up more and more in the news about these professions being targeted, like this one in Arizona.
Once again, understanding your threat level is key, but as a first responder, you are throwing yourself headfirst into unprecedented situations where anything can happen.
We highly recommend our Level III+ plates or higher in a tactical kit for you to house all of the items you need to save lives.
In Conclusion, the state of society is trending down, and it seems anything can happen at any time. Be prepared and stay safe with all the options that Spartan Armor Systems® has to offer.