Sidebar
Spartan Armor Systems™ AR550 Level III+ Body Armor receives NIJ Certification!
Recently we completed the process to have our AR550 level III+ body armor NIJ certified. We put a lot of work into testing and proving our body armor because there's no room for substandard products in this industry. Let's be real folks, we're not talking about toaster ovens here. If body armor fails then people can die, there are no second chances. That's why we are constantly submitting our body armor to independent laboratories for ballistics testing. This includes certification by the National Institute of Justice, which is a stringent testing process used to confirm body armor ratings under NIJ 0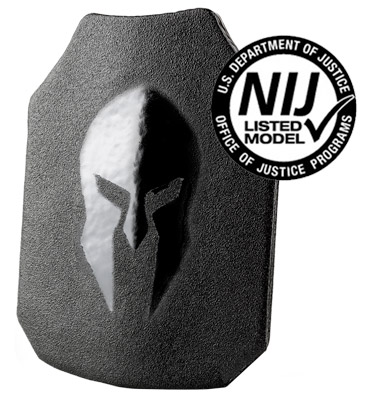 101.06 specifications. This process is not required to sell body armor commercially and it does cost a significant amount of money. However, we see NIJ certification as a crucial step in proving the effectiveness of our products and giving piece of mind to customers who are looking to buy body armor. Whether you're a Law Enforcement Officer, First Responder or a Concerned Citizen, we want you to feel confident that our body armor will do its job every time you put on your plate carrier
If you're not familiar with the NIJ ratings system you can read a full breakdown here . Please note that level III+ body armor is an additional category created by companies in the body armor industry. While NIJ rates our AR550 body armor as level III, we have proven its capabilities to defeat higher velocity threats such as XM193, M855 and M80 BALL. This goes beyond the standard NIJ level III requirements. Want to know more about our advanced threat testing of our AR550 body armor?
Here's a breakdown of our products which have completed NIJ certification. We'll be adding more to this list in the not too distant future!

Note: The NIJ Certification applies to our AR550 Shooter's Cut and Swimmer's Cut Single Curve with a Full Coat of our Encapsuloc™ fragmentation mitigation coating.
Click Here to Buy Body Armor Now

NIJ Threat Level
Special Threat Level
Product
Model Designation
Curve
Composition

Shelf Life

III

III+

AR550
AR550

Single Curve

Steel Core

20+ Years

III

III+

UHMPE Level III
3401

Single Curve

UHMWPE

5 Years

III

III+

Level III+
3410

Single Curve

Ceramic/Composite

5 Years

III

III+

Spectra Lightweight 9.25x12.5
3610

Multi-Curve

Ceramic/Composite

5 Years

III

III+

Spectra Lightweight 10.25x13.5
3610

Multi-Curve

Ceramic/Composite

5 Years

III

III+

Spectra Lightweight
11x14
3610

Multi-Curve

Ceramic/Composite

5 Years

IV

IV

Spartan Multi-Hit
1189

Single Curve

Ceramic & Polyethylene

5 Years

IV

IV

SAPI Cut Multi-Curve
4600

Multi-Curve

Ceramic/Composite

5 Years

IV

IV

SAPI Cut Multi-Curve
4600

Multi-Curve

Ceramic/Composite

5 Years

IV

IV

Shooter's Cut

4400

Single Curve

Ceramic/Composite

5 Years