Sidebar
Speed vs. Durability In My Tactical Gear Setup
Kit Setup
There's a seemingly unending list of tactical gear with new accessories and doo-dads coming to market all the time. Plate carriers offer a lot of options for customization, it can be easy to fall into the trap of adding too much or unnecessary gear. So, what's really needed in my tactical setup? This is a question I find is not asked enough. This is also a question I find that people answer in their living room based on theories of combat. The answer in my opinion, is really quite simple. Let's break down some considerations as to how we will setup our plate carrier and overall kit.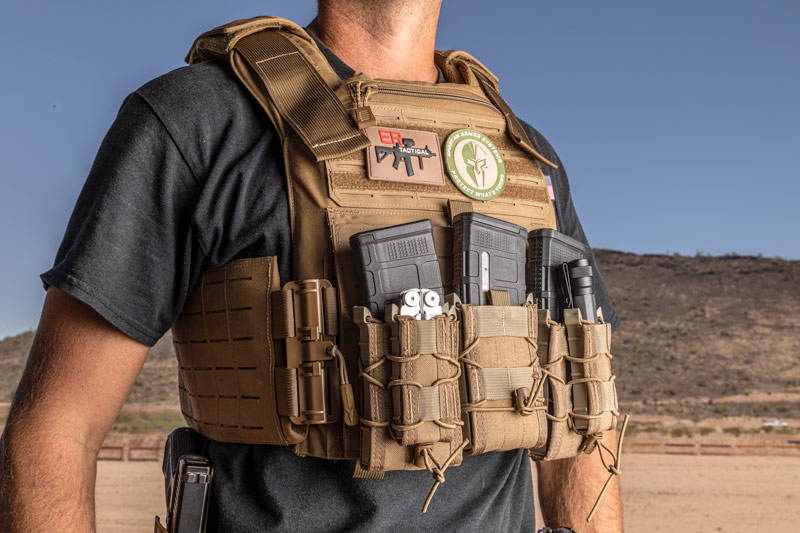 Weight
First and foremost, one of the greatest contributing factors to my kit setup is weight. I find it extremely valuable in being mobile and capable of rapid engagement and maneuverability. This means not just having a lightweight body armor kit but also training on the range. Finding the correct kit that does not slow down your carbine presentation or your pistol draw is key. In addition to that, we need to be able to conduct an emergency reload and be unencumbered by any other physical activity we may need to conduct in our body armor.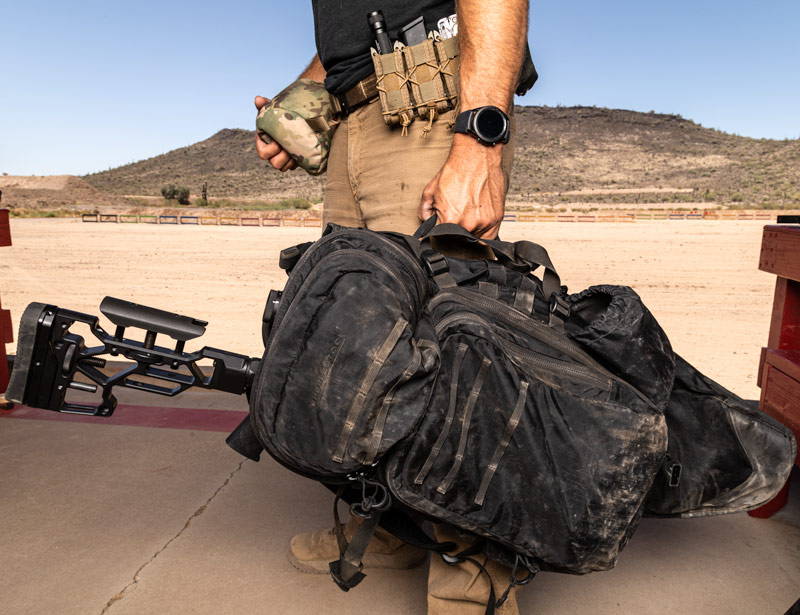 What's the Mission?
The next largest factor is mission. I prioritize weight and maneuverability because if I cannot present my weapon or defend myself, I am unable to complete the mission. The mission may require me to carry certain types of gear and a certain amount of gear. This might mean it could be a long time before I return to a place where I can refill magazines and water. This might also mean my role within a team is specific and requires me to have specific gear. As a civilian, I find that my role is to stop an immediate threat and not much more. This allows me to limit how much weight and extra gear I attach to my kit. Within my home, I don't need to carry food in my kit. I also don't need to carry blankets and tons of ammunition. I like using the example of my hunting setup. When I go on a hunt, whether it be large game or predator, I'll set up three bags. The first bag is for my hotel room and it contains all of my toiletries, change of clothes, and all the other necessities for an overnight hotel stay. The next bag is going to be my car kit. My car kit contains extra food, water, ammunition, and other things I might need in-between vehicle deployments. Lastly, is my kill kit. This kit is designed to be light and unencumbered. This allows me to toss my backpack on and grab my rifle and head to the location in which I hope to encounter elk or coyote. I might need to sustain for up to 12 hours. Applying this methodology to my in-home kit means I really only need my kill kit. This is body armor and/or equipment that will be used to protect my home for probably only 5 min to 1 hour. If hordes of zombies are coming, then sure, I might need more ammunition. The idea of carrying six mags on my chest for a home defense situation seems a bit extreme. I am plenty content with one magazine in my rifle and two on my chest. The rest of that real estate could be used for other items, like emergency medical equipment, or my favorite item which is an additional flashlight. It is all too often that I see clients show up to the range with body armor and every bit of real estate covered with any potential thing I might need on the range. Some people go as far as attaching a cleaning kit for their rifle onto their vest. There is no scenario where I'm going to be amidst a combat engagement and decide my weapon is dirty and I need to clean it. Just because it has the ability to attach to a vest, doesn't mean it's a good idea to attach it to your vest. I'm a big advocate of less is more. This is the same logic I'm applying to not caring chemical lights, seven magazines…you fill in the blank.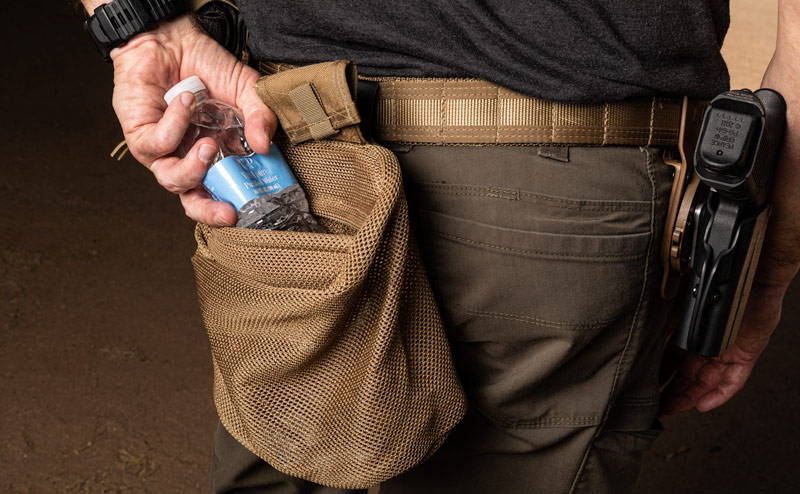 Drop Pouch
I really enjoy talking about the drop pouch as it's probably the most misunderstood piece of gear. It's often taught that the drop pouch is for half-full magazines. I have seen this logic taught in the military and many other tactical instructors carry it from the military and other places. Personally, I have found that in overseas operations my drop pouch is used for administrative equipment. It's a wonderful, oversized cargo pocket that can hold extra water, beef jerky, Chapstick, and more. So you can imagine what finds its way into that pouch. In an emergency situation where I've gone through all of my magazines and I'm looking for my last half-full magazine, I don't want to dig through beef jerky and Chapstick to find that magazine. I am a very big advocate of placing magazines in magazine pouches. If they are empty, they don't belong in pouches. Empty magazines get confused for full magazines. I believe empty magazines belong on the ground until the fight is over and I can recover them. The drop pouch has always been and will always be an administrative device. Please don't get me wrong I truly enjoy having beef jerky close by.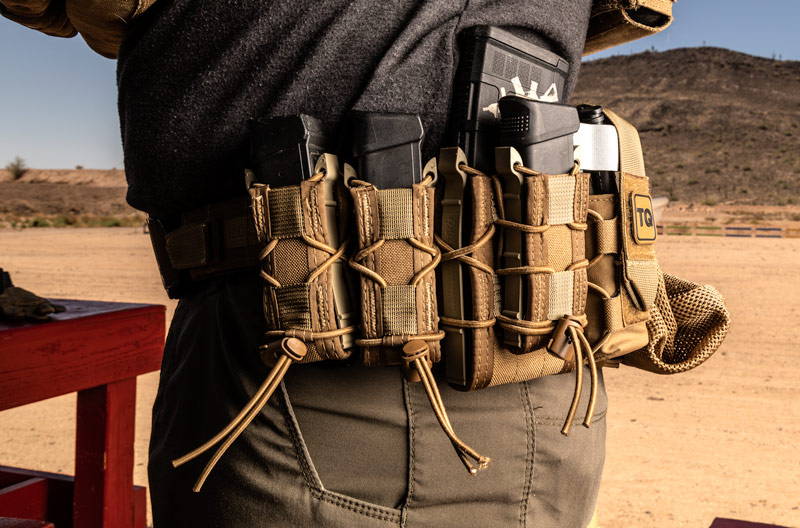 Pistol Gear
The concept of a pistol is strongly misunderstood across all cultures, particularly the American civilian and military cultures. We have been taught by Hollywood that good guys use pistols to stop bad guys with sub-machine guns and battle rifles. This is obviously very far from the truth. Cinema has done a lot to mislead us in all kinds of fun directions. In a later article, we will talk about transition drills and their importance or lack thereof. For now, let's just understand that if my Carbine is in my hands I am not likely to trade out my incredibly capable Carbine for a moderately inefficient handgun. Now having said that, we can see why I don't put any pistol equipment on my rifle vest (pistol, mags, etc). Personally, I think it is best to segregate rifle and pistol equipment. My pistol belt contains all of my pistol gear and EDC equipment. When I add a rifle vest I'm also adding a rifle. If my rifle is in my hands I want extra rifle magazines. If I decide to remove my rifle from the equation, my vest will follow. Now I'm back to my pistol gear. Segregating these two makes for smooth transitions between EDC and tactical kit. Having to swap your magazines in-between Carbine and Pistol drills is inconvenient and inefficient. Quite simply, I keep my pistol gear on my pistol belt and my rifle gear on my rifle vest.
Hopefully, this brings some clarity on how to streamline your tactical setup and not overdo it in the gear department. If there's a particular item that you think does or does not belong on your vest, it's important to have solid reasoning behind it.
About the Author:
Rob joined the USMC in 2004 with a military occupational specialty of 0311 (Infantry Rifleman). Assigned to 3rd Bn 1st Marines, Rob participated in a deployment to Iraq (OIF-3) as a point man followed by an assignment as Team Leader for the 13th MEU Special Operations Capable to Iraq (OIF-6). In 2007, he joined 1st Marine Regiment and reenlisted to deploy to Afghanistan. InJanuary 2010, Rob was promoted to the rank of Sergeant & continued to serve 1st Marine Regiment for a year-long deployment in Afghanistan. On return from Afghanistan, Rob was assigned to School Of Infantry West to work as a Combat Instructor (CI) for the USMC where he trained thousands of Marines to gain the skills necessary to survive. Rob exited the USMC in 2014 & was immediately picked up by Securing our Country (SOC). As a private military contractor, Rob was responsible for training the specialty teams of operators at the American Embassy in Iraq. Shortly after leaving Contract in 2018, Rob became the Chief Instructor of GPS Defense Sniper School. Rob now gives 100% of his attention to Emergency Response Tactical training all levels over 320 days a year as his passion & full-time job.
You can read his full bio here.