Sidebar
​Encapsaloc™ Fragmentation Mitigation Anti-Spall Body Armor Coating | Spartan Armor
Fragmentation protection is a critical feature when selecting your body armor platform. A common drawback of steel body armor is that projectiles can fragment and ricochet off the face at a zero to 20 degree angle. This means that bullet fragments have the potential to end up in your legs, arms, neck and head which may result in life treating injuries. A full coat of our fragmentation mitigation coating prevents or greatly minimizes these types of injuries. Put simply, a $60 upgrade to our full coat of Encapsaloc™ could be a life saver.
The FULL COAT of our Encapsaloc™ Coating System is our Recommendation for Optimal Protection
We tested a wide-variety of bed lining, kevlar sleeves and urethane coating systems with mixed results. In fact, we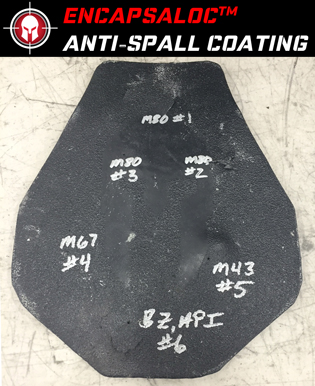 found that some coatings created more harm than good so we set out to create a superior coating. We factored in durability, adhesion, consistency, texture, elasticity, and price point during our testing. After years of tweaking and testing in an effort to offer the best possible fragmentation and spall mitigation in the industry, Spartan Armor Systems™ developed a specialized coating system to be the absolute BEST coating for our plates. With over 20 years of industrial grade coating experience in our arsenal we are confident that our Encapsaloc™ formula is the gold standard for fragmentation protection in tactical applications for law enforcement and civilian use.
Base Coat vs Full Coat
Our sets of steel core body armor come with a standard base coat. Although the base coat will not contain the fragments in the event of a shooting, our testing shows that the fragments project farther away from the body as compared to an uncoated plate. The base coat keeps the plate from being exposed to the elements and esthetically looks better. Still, we can not stress enough the benefit of going with the full coat for your body armor. A full coat of Encapsaloc™ will mitigate fragmentation at minimal cost.
What do we do that is so special? Preparation is PARAMOUNT when it comes to coating our body armor. All of our body armor goes through a multi-step process to ensure maximum adhesion and function of our anti-spalling coating. First, each and every steel plate is shot blasted to remove any mil scale, oils, dirt, and debris. Next, the plate is wiped with acetone to ensure cleanliness. After the acetone has dried, they go into the spray booth for final inspection. After quality control has done their check, the plates then get a professional application of our Encapsaloc™ coating system.
Looking for even more protection? Our trauma pads provide added protection against blunt force trauma. Click here for more info.
Here's a video from IraqVeteran8888 putting our anti-spall coating to the test!