Spartan™ Omega™ AR500 Body Armor Single Plate
Spartan™ Omega™ AR500 Body Armor Single Plate
Spartan™ Omega™ AR500 Body Armor. Constructed from lab certified AR500 steel, (1/4" thickness) this chest plate provides the operator with Level III protection IAW NIJ0101.06 standards. Choose between Shooters or Swimmers Cut Plates.

*Note, THIS IS A SINGLE PLATE OPTION
---
Product Details
SPARTAN™ OMEGA™ AR500 BODY ARMOR SINGLE PLATE
Product Overview
Armor befitting of a modern-day Spartan… The Spartan™ Omega™ AR500 Body Armor single plate is constructed from ¼" thick lab certified AR500 Omega™ Armor ballistic-grade steel. The Spartan Omega AR500 plates are available in three sizes (8"x10", 10"x12" and 11"x14") and provide the operator with Level III protection in accordance with NIJ0101.06 standards. As with all other body armor sold by Spartan Armor Systems®, our Spartan™ Omega™ AR500 body armor has been independently tested and verified by an independent NIJ credentialed laboratory.
Spartan™ Omega™ AR500 Body Armor - True High-Quality Ballistic Threat Protection
Not all steel core body armor is created equal! At Spartan Armor Systems® we are honored to provide our customers with the highest quality armor on the market because we understand intimately what is at stake. All Spartan™ Omega™ AR500 Body Armor products use only ballistic LAB CERTIFIED AR500 steel. All purchases of our Spartan Armor products have current lab certificates available on request, ensuring you have peace of mind when it comes to receiving the highest quality and integrity with your Spartan Armor Systems® body armor. For added peace of mind, every plate of armor sold by Spartan Armor Systems® is serialized allowing it to be easily tracked back to the original plate of steel it was cut from should there be any question as to its ballistic properties. Don't settle for sub-standard, ineffective, low-quality steel armor - your life may depend on it. Read our "FAQ" to learn more about the extensive testing and quality assurance all Spartan™ Omega™ AR500 Body Armor is subjected to and to learn about the quality of steel we use to construct our body armor!
Laser Cut to Protect Ballistic Integrity
All steel core body armor is cut and shaped after the ballistic properties have been formulated within the steel. While other steel body armor manufacturers commonly use plasma torch cutting that applies excessive heat (25,000 ˚C / 45,000 ˚F) to a wide portion of the steel plate, Spartan Armor Systems® only utilizes laser cutting to protect the ballistic integrity throughout the entirety of each steel core body armor plate we manufacture. Plasma cutting also requires grinding to clean up the edges after the fact, resulting in increased heat and possible fatigue. At Spartan Armor Systems®, we maintain the highest production integrity and quality standards every step of the way for our customers because we know what is at stake.
Additional Protection: Full Coat or Base Coat Options
We strongly recommend choosing our full coat option when you buy steel core body armor. Our proprietary plate coating, Encapsaloc™, is a potentially life-saving feature that captures spalling as a result of ballistic impacts on the strike face of the steel core armor plate. Do not settle for steel armor that is merely coated with generic truck bed liner spray coatings that have not been tested for ballistic efficacy. The strike face of our Spartan Armor Systems® Spartan™ Omega™ AR500 Body Armor plates proudly bears the mark of our Spartan logo.
IMPORTANT NOTE: The base coat option only provides protection against corrosion and offers little to no fragmentation/spall mitigation. Should you choose to select base coat plates, please consider adding our Spall Containment Sleeve (sold separately) as a means of fragmentation mitigation.
Exceptional Comfort & Engineering
You have the choice of getting our Spartan™ Omega™ AR500 Body Armor formed on a continual radius die (single curve) or with our proprietary and patented Advanced Triple Curve™ (ATC) formation. It is important to note that our single curve plate is the equivalent of what our competitors deem "multi-curve" and our ATC design is a true multi-curve plate with unique curvature at the top, bottom, and sides of the plate. At Spartan Armor Systems® we have machined custom tooling to craft our plates with a sleek curvature that conforms and wraps to your torso for enhanced ergonomics. Spartan Armor Systems®™ is proud to be the FIRST in the industry to commercially offer the triple-curved Spartan™ Omega™ AR500 Body Armor. Spartan Armor Systems®' ATC body armor allows the operator to shoulder their weapon with the most freedom and limited discomfort. The ATC design provides a snug, comfortable fit and "hugs" the operator's body, resulting in a significant increase in comfort and operational maneuverability. Our custom-configured CNC equipment and advanced understanding of what makes Steel Core Armor most effective has allowed us to create dies that form our body armor without any "crease" bends. Crease-bends, "work hardens" the plate, which causes a significant amount of stress to the portion of the plate being placed under load during the manufacturing process. We HIGHLY suggest when doing your research, that you ask any manufacturer under consideration if they crease bend their body armor. This process results in increased potential for plate fatigue and failure, which is why Spartan Armor Systems®™ has gone the extra mile to create this unique die process.
Chest Plate Weight (per plate):
8"x10" Plate: Base Coat 5lbs 13oz. Full Coat 6lbs 7oz
10"x12" Plate: Base Coat 8lbs 10oz. Full Coat 9lbs 11oz.
11"x14" Plate: Base Coat 10lbs 1oz. Full Coat 11lbs 6oz.
Side plates also available in 6"x6" and 6"x8" sizes, click here to learn more.
Additional Spartan™ Omega™ AR500 Body Armor - Specs:
Made in U.S.A.
Meets NIJ 0101.06 Level III Specifications
Available in Single Curve (commonly Called "MultiCurve" by other manufacturers) or Advanced Triple Curve™
Full Coat Option Provides Fragmentation/Spall Mitigation, Base Coat Provides Corrosion Protection Only
Includes 1 Armor Plate Per Order
Available in Shooters Cut or Swimmers Cut
See A Comparison of Our Full Line of Body Armor: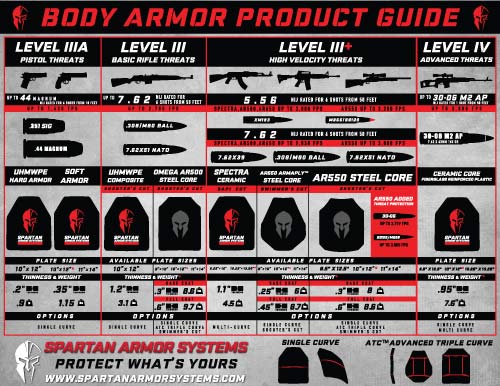 Export Administration Regulations (EAR) and International Traffic in Arms Regulations (ITAR) - US Export Regulations:
Level III and IV rifle rated body armor (Rifle Plates) fall under jurisdiction of the Export Administration Regulations (EAR) and International Traffic in Arms Regulations (ITAR), and are subject to the export control laws of the US Government. Export or re-transfer of Rifle Plates by any means to any foreign end user or for any other end use, whether in the US or abroad without written approval of the US Department of Commerce or Department of State is prohibited.
The sale, transfer, transportation, or shipment outside of the US of any product prohibited or restricted for export without complying with US export control laws and regulations, including proper export licensing, documentation or authorization, is strictly prohibited and may result in civil penalties and/or constitute a federal crime. Spartan Armor Systems, TK Armor Systems, LLC will not engage in any transaction that requires the illegal export of any products and will not assist directly or indirectly with the illegal export or re-export of any products.
*******All products available on this category are sold under and branded under Spartan Armor Systems ™ The Target Man's /Spartan Armor Systems Spartan™ Omega™ AR500 Body Armor Armor products are manufactured from genuine, lab-certified AR500 ballistic grade steel. None of the products available on this website are sourced from, sponsored or approved by, affiliated with or in any way connected with Armored Republic, LLC.
Product Videos
Which Body Armor Plates Should I Buy? | Spartan Armor Systems Comparison: AR500 Omega™ AR550 AR650
03:57
Need help selecting the right body armor for your loadout? This video provides an overview of Spartan Armor Systems AR500 Omega™, AR550 and AR650 NIJ rated steel core body armor products. We compare and contrast the differences in each type of body armor such as thickness, cut (shooters vs swimmers cut), weight and coverage area to help you select the body armor that's right for you. You can find all our products at https://spartanarmorsystems.com including steel core body armor, ceramic body armor, plate carriers, trauma pads, medical kits, ballistic helmets, magazine pouches and more. https://www.facebook.com/spartanarmorsystems/ https://www.instagram.com/spartan_armor/
Which Body Arm...

Need help selecting the right body armor for your loadout? Thi...

Spartan Armor ...

A quick glimpse at how Spartan Armor Systems steel core body a...

Spartan Armor ...

** This video is intended for educational & entertainment purp...

Product Overvi...

Spartan Armor Systems™ is proud to be the FIRST in the industr...
Related Products