Sidebar
Which Type of Target Should I Buy? Read This First [Buying Guide]
Spartan Armor Systems, the leader in personal armor protection, also sells an outstanding variety of shooting targets. All of our targets are crafted with AR500 steel, one of the most popular materials for armor and targets alike.
With different varieties of targets available for purchase, buying the right target can be a confusing process. Which type of target should you consider buying? Are all categories essentially the same? Why is AR500 steel so popular for target shooting?
Those are all great questions – and Spartan Armor Systems has the answers. We'll take a look at all the different shooting targets available at our store. But first – why go with AR500 steel for your targets?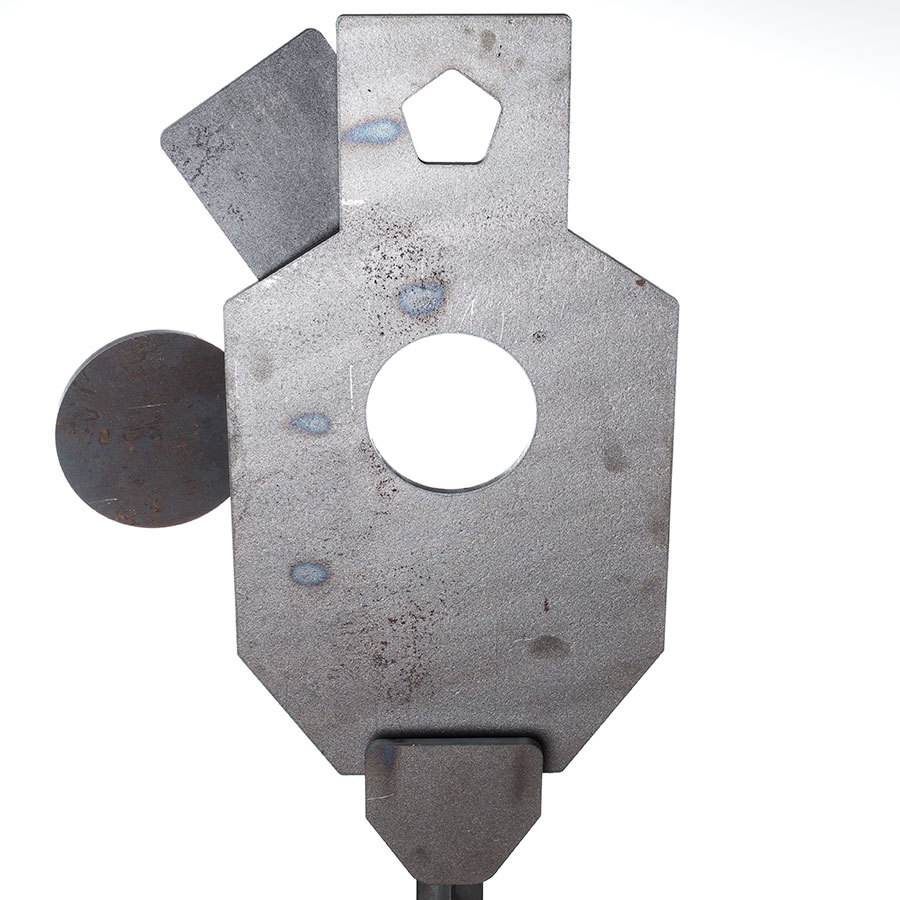 AR500 Steel: The Standard for Shooting Targets
In terms of shooting targets, "AR" means abrasion resistant, while the 500 indicates the Brinell Hardness rating. Abrasion resistance is an important attribute for any steel targets, since you don't want any shrapnel, chips, flakes or even bullets ricocheting back toward the shooting area.
AR500 steel is specially tempered to produce an ideal shooting target (and personal armor) material. It's used by elite military units, law enforcement, special tactical operations personnel and other people that require the absolute best materials and equipment in the line of fire.
From a technical standpoint, the performance specs for AR500 steel are impressive. The metal withstands ballistic impact going up to 3,200 feet per second and faster from 100 yards away. From a shooting target perspective, that's perfect for a variety of firearms and bullet types.
Spartan Armor Systems AR500 Shooting Target Buying Guide
AR500 steel is widely used in shooting ranges everywhere, which means there are a lot of options to choose from. Not sure which shooting target is best for you? Thankfully, your premier personal armor supplier also carries an exceptional assortment of the finest AR500 shooting targets on the market today.
Our AR500 shooting targets include:
Each variety has its own unique characteristics, along with preferable shooting practice applications.
Reactive Steel Targets (Welded)
Our reactive steel targets provide all the durability you'd expect from top-quality AR500 steel, along with the added benefit of instant recognition of accurate shots, thanks to reactive target elements. We've combined the best attributes of the finest reactive steel targets on the market today, all backed by high-end quality and ultra-performance AR500 steel that makes our brand famous.
Why Steel Reactive Targets
Taping hits on paper targets takes time. If multiple people are using targets in a match or LEO training these practice sessions can be painfully long if you stop to tape holes every time. Reactive targets give an audible and visual confirmation of a hit. Letting you decrease your range time while increasing the amount of practice/shots.
Popular targets:
Our Hostage Moe reactive target is a must-have for any shooting enthusiast, while our Dueling Tree offers varied height targets and noticeable reactive action to help hone your shooting skills.
DIY Reactive Steel Targets (Unwelded)
For the do-it-yourself types who can weld, it's hard to top our AR500 DIY reactive steel targets. Big savings on products that would be just to expensive and large to ship complete are now affordable. Our DIY targets are laser cut and come with instructions. You will need to source some additional steel from a home improvement store to complete the target. Just a little imagination and a touch of our guidance, anything's possible out on the shooting range! Our DIY reactive targets are a great option for local, private, or LEO shooting ranges, fun everywhere in between!
Popular targets:
If you have access to a welder and some steel, our Target Man™ Gen III Plate Rack provides a shooter's paradise right in your backyard or at the range. And don't forget the DIY Texas Star; this reactive target's rotating hub will help your accuracy improve in no time!
IPSC Targets
Inspired by the International Practical Shooting Confederation (IPSC), the world's leading shooting sport organization, our IPSC targets combine practical skill, premium quality, and – most important of all – loads of fun! Durable enough for year after year of dependable use, all of our IPSC targets are perfect for both beginners and experienced shooters alike.
Popular targets:
The Target Man™ 66% IPSCis scaled 2/3 the size of normal IPSC targets, which sharpens your shooting accuracy, regardless of skill level. For a greater challenge, try our Target Man™ IPSC "Mini" model.
½" AR500 Targets
Top-quality AR500 steel, cut to precise half-inch thickness – with these targets, you get the best of both worlds! Their thickness ensures structural integrity, even after thousands of rounds of heavy-duty ballistic impact.
Popular targets:
Customizable mounting configuration provides endless shooting possibilities with our half-inch gong targets, and our scaled-down IPSC target is a great choice, too!
Gong & Hanging Targets
From innovative configurations to unique dimensions, our gong & hanging targets are perfect for any practice shooter who prefers a little variety. Are you tired of having ato walk 100 to 1000 yards to check your paper targets? Steel Gongs give you instant audible and visual confirmation of a hit. Set up multiple sized gongs to work on accuracy. We also sell package options for even more out-on-the-range possibilities.
Popular targets:
Check out our hanging steel targets, available in five different sizes and two steel material options (mild and AR500). Built for lifetime use, the always popular gong package gives you three sizes (8", 10", and 12"), along with the reliability and fun-to-use factor you expect from Spartan Armor Systems.
Get Your Shooting Targets from Spartan Armor Systems Today!
Thanks for considering Spartan Armor Systems for your entire shooting range requirements. With a great selection, budget-friendly pricing, and exceptional quality, Spartan Armor Systems targets have everything you need (or want) in high-end shooting range accessories.
For any questions about our targets, send us a message, or call our target experts at (520) 396-3335.